Beauty Review With: NuFACE CEO and Cofounder Tera Valdez-Peterson
December 13, 2016
Let us introduce your skin's new best friend: NuFace. This beauty industry innovator is creating buzz with its "fitness for your face" regimen, which can help women lessen the time spent on their beauty routines. When used about five minutes a day, NuFace helps fight wrinkles and achieve glowing, radiant skin at home. Founded by women, for women, NuFace focuses on transforming the way skincare is approached by delivering clinically proven, noninvasive devices for skin of all ages.
Just in time for the holidays, the brand launched two new, limited-edition gift sets, the Haute Contour and Glam On-The-Go. These collections came to life in collaboration with two beauty insiders and are sure to be your new go-to beauty products.
We sat down with Cofounder and CEO Tera Valdez-Peterson to talk about her own personal skincare routine and what makes the NuFace brand unique.
Neiman Marcus: How does NuFace technology work, and what makes it different?
Tera Valdez-Peterson: NuFace is an FDA-cleared, multi-solution, at-home skincare device that uses innovative microcurrent technology and red light therapy to help improve facial contour, enhance skin tone, and achieve smoother skin. Our unique microcurrent treatment mimics the body's natural current to address the muscles directly. It also helps reshape, lift, and contour as the red light therapy goes behind the wrinkle to energize collagen and elastin—smoothing the skin and effectively minimizing unwanted lines and wrinkles.
NM: You've taken part in an independent clinical study on the NuFace Trinity Facial Toning Device. Tell us about the results.
TVP: Yes! We conducted the ENGAGE Clinical Study that evaluated the effectiveness of the NuFace Trinity used in combination with the Facial Trainer attachment to improve facial contour and skin tone, and reduce wrinkles. The participants performed the treatment at home for only five minutes a day for 60 consecutive days. Users experienced improved facial contour and reported their skin felt smoother and looked more toned.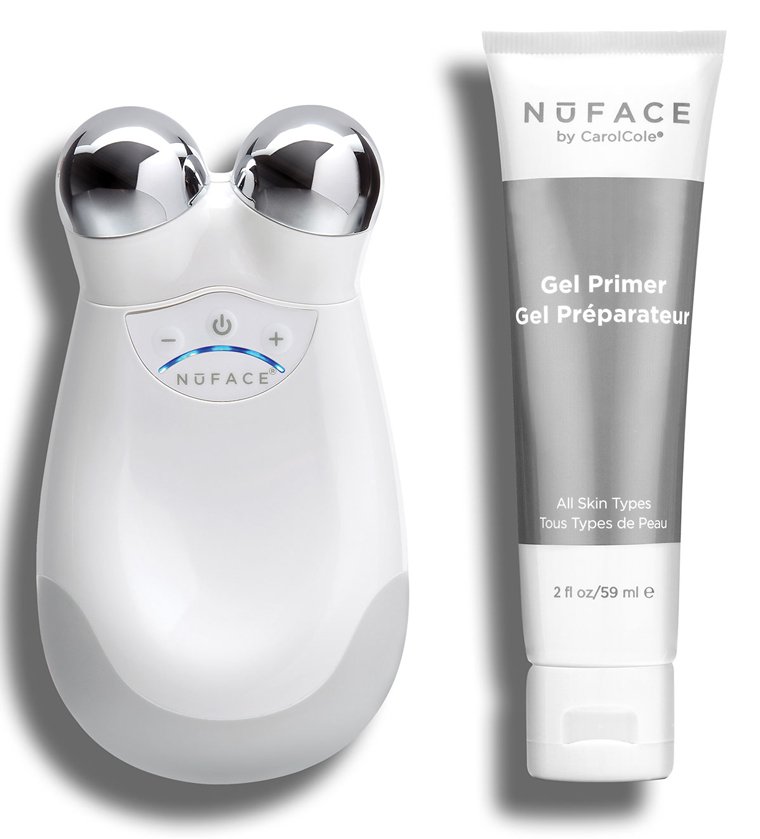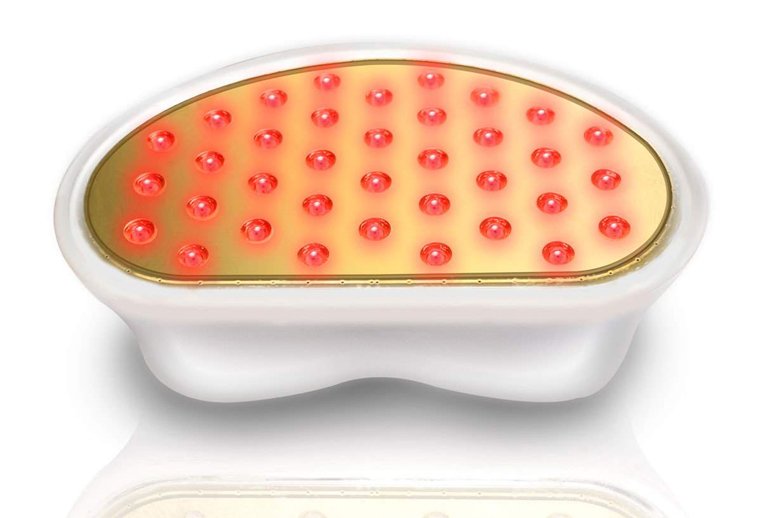 NM: Tell us about the latest NuFace-curated collections—the Haute Contour and the Glam On-The-Go.
TVP: We recently collaborated with two beauty industry insiders to handpick their favorite NuFace products for the holiday season.
We partnered with celebrity aesthetician Shani Darden to curate a limited-edition assortment of her most coveted NuFace products, which we've named the Haute Contour Collection. It contains the hero NuFace Trinity device with Facial Trainer attachment, ELE attachment to target lips and eyes, and our essential Gel Primers (both the original and with 24-karat gold), which have antiaging and firming ingredients to boost results. Shani also offers exclusive tips and tricks for achieving that highly sought-after red carpet glow that her Hollywood clients are known for.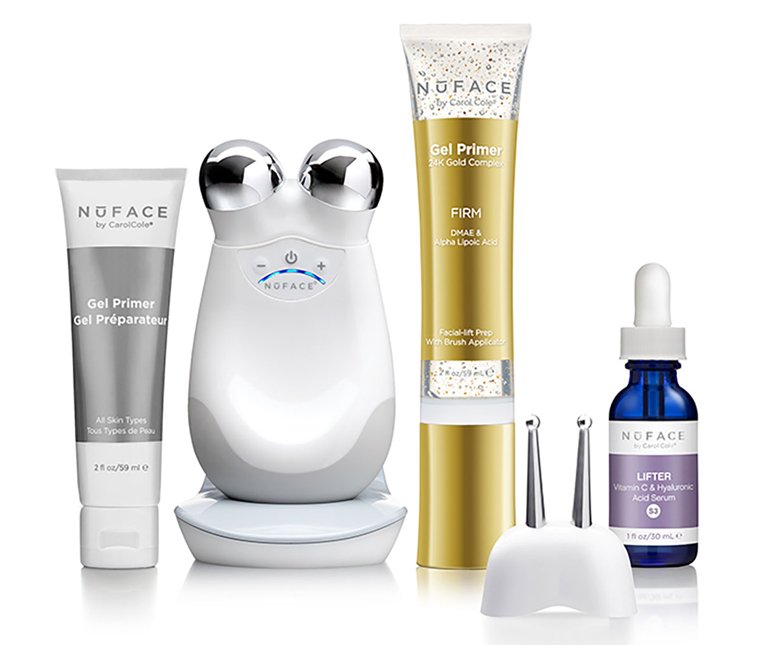 The second collaborator was top beauty blogger and lifestyle expert Lisa Allen of Lunchpails & Lipstick to create the Glam-on-the-Go Collection. This kit is perfect for the jet setter, busy mom, or any woman on the go. It contains the Trinity Mini (a more compact and portable version of our signature Trinity device), Gel Primer, our amazing Collagen Booster Infusion Serum, and Lisa's personal secrets for getting tighter, brighter skin using NuFace products. We love that you can throw the NuFace Mini in your handbag and use it anytime and anywhere!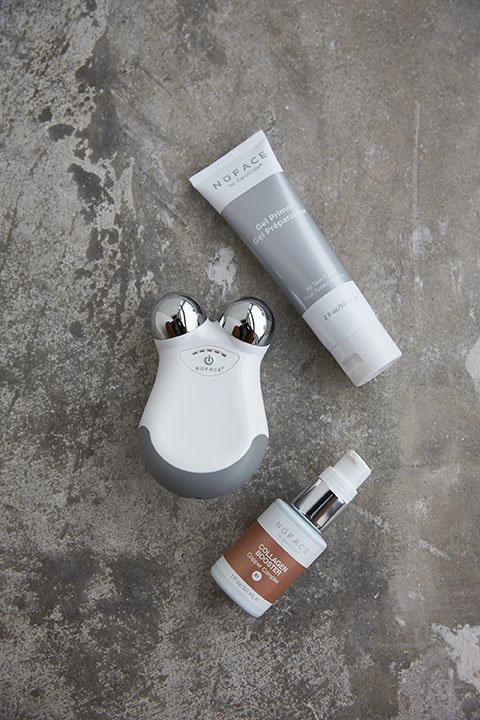 NM: What makes NuFace products the perfect holiday gift?
TVP: NuFace is the perfect gift for every woman who wants to look her best. Our collections are stress-free because they provide everything you need to achieve more radiant skin in one compact package—plus a fun holiday tote! Beyond the curated collections, we also offer various customizable sets to target specific areas of the face.
NM: Who would you gift the Haute Contour and the Glam On-The-Go to?
TVP: Everyone! Beauty is no longer about wanting to look younger. Beauty is about looking and feeling your best—whether you're 25 or 65 years old. NuFace addresses a multitude of skin concerns and goals, so whether you want to define your jaw, improve your complexion, or contour your cheeks, NuFace can assist in achieving these goals in just five minutes a day.
NM: Tell us about your beauty routine. What steps do you take to keep your skin healthy and glowing?
TVP: Practice what you preach! Diet and hydration are both so important for keeping our skin healthy, so I always make sure to drink lots of water throughout the day. Tip: The more hydrated you are, the better your NuFace results will be. I like to think of skincare as "nutrition" and NuFace as "exercise" in the equation—both are equally important to achieving glowing skin.
NM: In addition to using NuFace, what steps can women take to maintain healthy skin?
TVP: Diet is key for seeing optimal results. Staying hydrated, eating nutrient-rich foods, and getting a good night's sleep are all essential ingredients for maintaining healthy, luminous skin.
Shop the collections and more NuFace products on NeimanMarcus.com.