Iconic Beauty: The Tom Ford Orchid Collection
August 7, 2016
Perennially associated with luxury, Tom Ford Beauty continues to best itself with seasonal releases that epitomize sophisticated opulence while still being entirely suitable for everyday wear. The Orchid Collection maintains this aesthetic tradition with a range of limited-edition fragrance, face powder, and lip color that captures the iconic sensuality of Tom Ford's very first eau de parfum. The decadent jet black, rich violet, and radiant gold packaging features a deco-inspired ribbed exterior, and the contents housed within evoke a sense of mystery and glamour for skin, cheeks, and lips as stunning as the black orchid itself.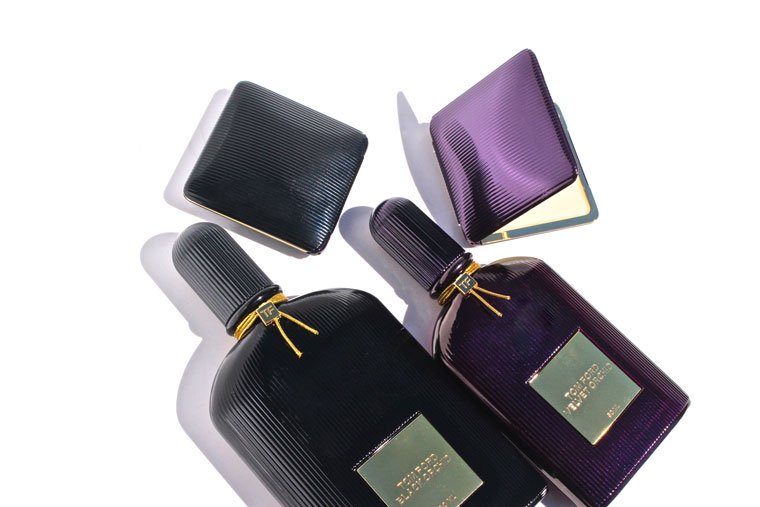 Central to the collection are the Black Orchid Eau de Parfum and Velvet Orchid Eau de Parfum. This pair of fragrances represents a unique duality: the Black Orchid Eau de Toilette has the flower (custom-grown for Tom Ford) at its heart and is balanced with notes of tuberose, black plum, and black truffle for a grounded sillage that is equal parts floral and woody. The Velvet Orchid takes an entrancing turn, integrating creamy notes of suede and vanilla for an exotic take on a classic. As part of the Black Orchid family, both fragrances are available as solid perfume as well. Weighty yet portable, the sleek compacts are covet-worthy ambassadors of the collection. Additionally, the lavish Black Orchid Lalique Perfume Edition will also be available in September for enthusiasts of the fragrance who seek a singular experience with the collection.
In terms of color, the Nightbloom Powder in Black Bloom (a luminous gold) and Velvet Bloom (a fresh and cool-toned lavender pink) offer next-level highlighting and blushing options. Try sweeping Black Bloom along the upper cheek bones, through the center of the forehead and down the bridge of the nose for a lit-from-within look; a touch of Velvet Bloom, concentrated on the apples of the cheeks, delivers a naturally pretty flush that will make you wish these compacts weren't limited editions. The collection would not be complete without lip color, as many of us have found our first foray into the Tom Ford Beauty line with his signature, "TF" emblazoned lipstick. Individuals who prefer deep tones will adore the vampy burgundy Black Orchid, while those of us who gravitate toward lighter hues will discover perfection in the lush mauve Velvet Orchid. I daresay that most will find both shades well-suited to Fall 2016's color palette!
The resplendent Tom Ford Orchid Collection will be available for pre-order in late July and on counters in August.