Naturally Chantecaille
September 19, 2016
Pioneers of Natural Beauty
Nearly 20 years ago, Sylvie Chantecaille launched her eponymous beauty brand with the desire to "address the impact of products on our health." As creator of Prescriptives, the Estée Lauder brand she launched in 1979, she'd already solidified her status as an innovator in the field — but she yearned to do more. "I wanted to create products with plants, particularly flowers," she says. "I understood their effect on our emotions and wellbeing, but what I didn't know was how powerful their impact could be on our physical being."
She soon found out.
Working with a team of scientists specializing in plant research, specifically stem cell technology, Sylvie discovered that the power of plants was greater than she'd imagined, effectively: boosting collagen and improving skin. Contrary to popular belief, she says, "botanicals are a highly effective alternative to their counterparts."
Natural beauty is a hot topic, and while many brands are reacting to demand for cleaner ingredients, Chantecaille was ahead of the curve. "I think people are more aware of how toxic our world is becoming," says Olivia Chantecaille, Sylvie's daughter and brand creative director. "We're making an effort to drink filtered water, eat organic food, and use cleaner products. The next step is to seek natural, pure products for our skin."
The company employs a full-time Ph.D. trained in stem cell research and works with some of the most prestigious laboratories across the globe; adeptly mixing biotechnology with ancient Chinese medicine, aromatherapy, and European flower pharmacology. Products are 75-100% plant-based and free of animal by-product, phthalates, and fragrance. Among their many accomplishments: discovering the antiaging benefits of swiss apple stem cell extract and the Rose de Mai (which blooms just three days a year and is harvested by hand), and most recently, uncovering the unique brightening properties of white gardenia.
"In a world that's more and more toxic, we're growing specific plants and specific plant stem cells that we know are effective and safe with a very low footprint," says Sylvie. "We believe in harmony."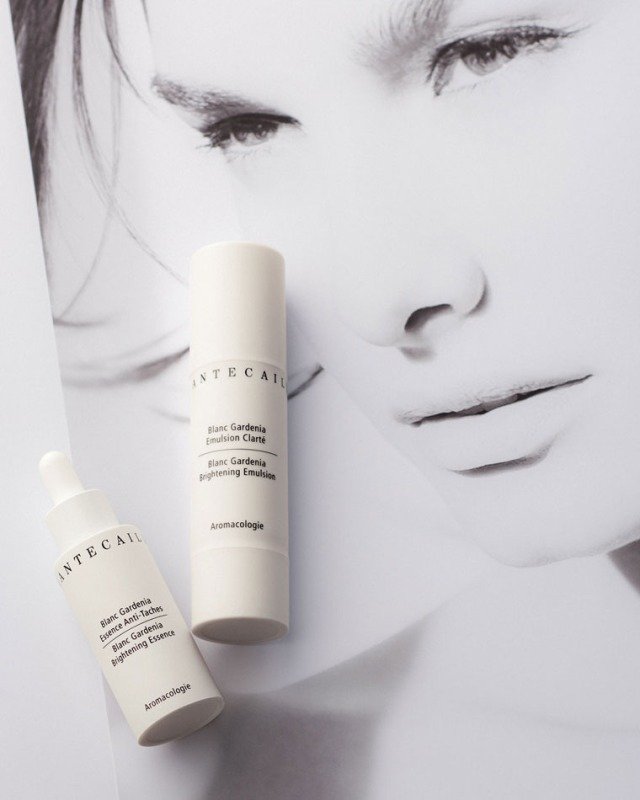 More than eight stem cells work together to diminish erratic dark spots for a more even-toned complexion. "I was exposed to a lot of sun as a child, and when I turned 60, the dark melanin spots started appearing. We grew gardenia stem cells, as I've always been attracted the to whiteness of a blooming gardenia. Tests showed extraordinary ability to help brighten and soothe the skin." —Sylvie Chantecaille


Protectors of Nature
In tandem with Chantecaille's mission to provide safe yet effective products is its desire to promote ecological harmony by spreading awareness on global issues, specifically conservation and animal rights. For the women at the helm — Sylvie and daughters Olivia and Alex, vice president of sales and promotions — it's not a marketing ploy or campaign strategy, but a deep-rooted passion. "Philanthropy is baked into our DNA," says Alex. "Our mother always taught us the importance of giving back. We have tremendous respect for nature and its animals."
They also protect it — fiercely. The brand has raised awareness on behalf of elephants, wolves, bees, tigers, and a number of other endangered species. Practicing what they preach, they create a charitable palette each season with a percent of proceeds donated to charity.
This season, the focus is on lions. Struck by last year's well-documented murder of Cecil the Lion and the staggering statistic that 60-90% of Kenyan lions have disappeared in recent years, the family hopped a flight to Africa for a trip Olivia calls "life changing."
Inspired by their time there, the Limited-Edition Protect the Lions Eye Palette features rich hues both evocative of the African landscape and on-trend for the fall season. Five percent of proceeds benefit the Lion Guardians, a nine-year-old organization dedicated to preserving the region's lions by finding longterm solutions for locals and lions to coexist. "It's about making the people who are on the frontline with the animal care about it and benefit from it," says Alex. "For us, it symbolizes modern conservation."
"Triggered by the urgency of speaking about a species encountering abnormal destruction," this is the 18th charitable palette from the brand. "The reason these causes are so important for us is because we feel that as women speaking to women, we can have a voice for those who don't," says Sylvie. "Luxury is about knowledge."