A Study in Red: CHANEL Le Rouge Collection No1
August 11, 2016
Red. The color of passion, power, fire, and for Mademoiselle Chanel, "the color of life and blood." It was her signature and became — over the course of nearly a century — as much a part of the Chanel identity as pearls and tweed. So when Italian makeup artist Luca Pica took the reins as Global Creative Designer for Makeup and Colour at CHANEL, red was a good place to start. "I'm obsessed by it," says Pica. "For me, there is strength, emotion, warmth, and disruption in the color red."
One thing you must know about Pica. She is not a follower. Her body of work shows a style that eschews the conventional, challenges the formulaic, and routinely pushes the envelope. So when she began her work with red, she didn't stay in the tried-and-true arena of lipstick. (Although the collection does include some fantastic ones. More on that in a minute.) Instead, she chose to approach the color in unexpected ways — for cheeks, for nails, and even for eyes. "I wanted to explore the meaning of the color and what's behind it. How does it make you feel? How does it make you think?" For Pica, it's an expression of femininity and its "strength, vulnerability, and sensuality."
Her debut collection at Chanel, Le Rouge Collection No1, explores that feeling and all the facets of color. Among its highlights: Rouge Allure Velvet, a modern matte lipstick in shades that would've received a nod of approval from Mademoiselle Chanel. ("Put your red lipstick on and attack," she once said.)
For nails, there are two new shades. One, Rouge Puissant, is a classic, intense red. The other, Rouge Radical, is a new nail gloss that's semitransparent and looks like vinyl, one of the more rebellious sources of Pica's inspiration.
If red eye makeup has you raising an eyebrow, you're in good company. Before seeing the collection, Kelly St. John, NM Vice President, Beauty, was skeptical as well. "When we were at market, we heard whispers Chanel would be unveiling a red eyeshadow," she says. "The team even teased me a little by warning me to brace myself. But instead of a shock, I was pleased to find a most gorgeous, wearable shade that looks beautiful on the skin."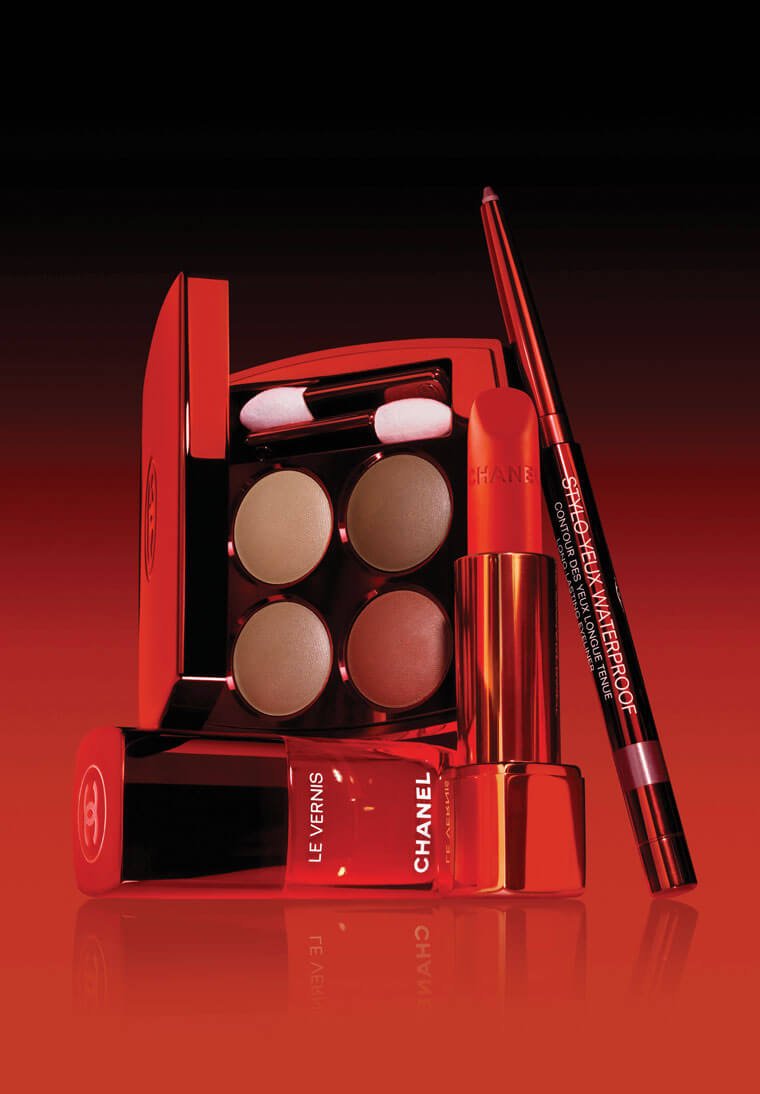 For a few tips on how to expertly wear the look, we turned to Chanel Celebrity Makeup Artist Rachel Goodwin. "Red eyeshadow requires a little more careful application, but the payoff has much more mystery than your typical smoky eye," says Goodwin. "The key is to define the lash line with black or brown liner and black mascara." For a luminous effect, use Illusion d'Ombre in Rouge Contraste. "It blends beautifully with powder shadows and pencils. It's the perfect color and texture for creating the ultimate burgundy eye."
The beauty of the collection's eyeshadow quad, Les 4 Ombres in Candeur et Expérience is that the deep red brick shade arrives alongside soft matte browns that make the look effortless. The palette is among Goodwin's personal favorites. "I've been using it on everyone — an instant Chanel classic as far as I'm concerned," she says.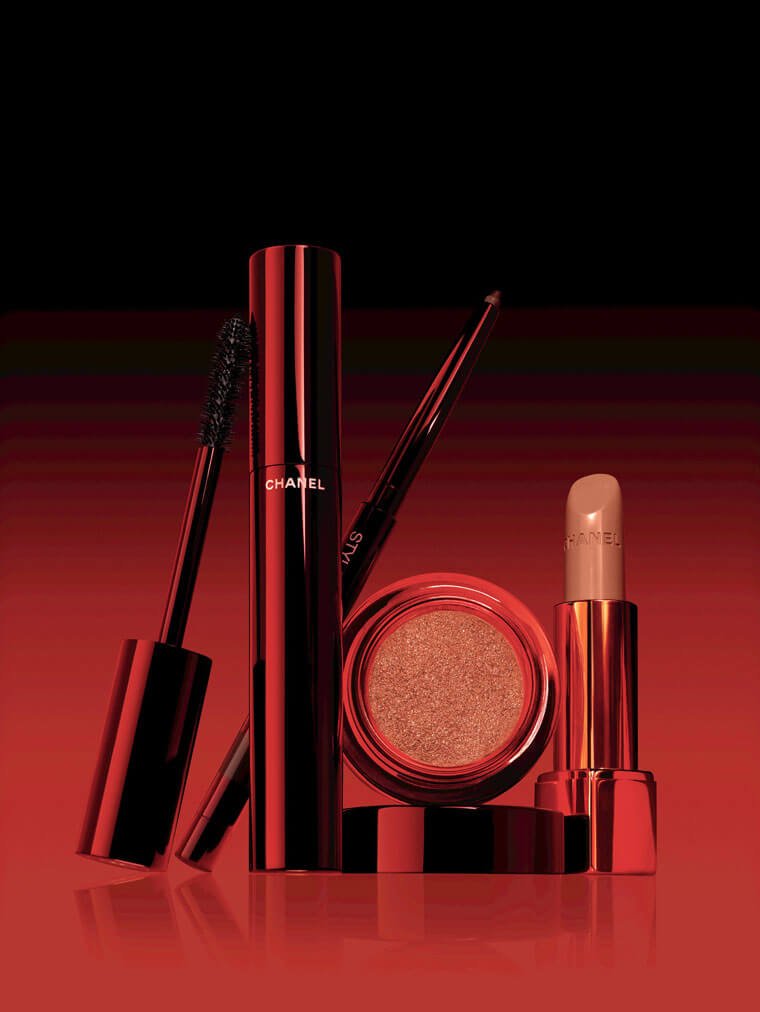 And there's one more area Goodwin urges you to reconsider red: the cheeks. "Red blush can be a little intimidating, but if applied correctly powder blush in 
Rouge Profund gives you THE perfect flush.
" Daring, but beautiful — so very Chanel.