Ten Formulas Suited to Summertime
June 28, 2016
Summer calls to mind many things: carefree vacations, blissful days in the sun (albeit, properly protected with SPF), a cool and refreshing dip in a lake or the sea, and, dare I say it, the dreaded feeling of foundation melting off one's face in the relentless heat.
Fortunately, there is a bounty of base formulas that perform well in the sweltering months! Here are ten foundations that will stand up to the heat and suit every skin type and coverage preference: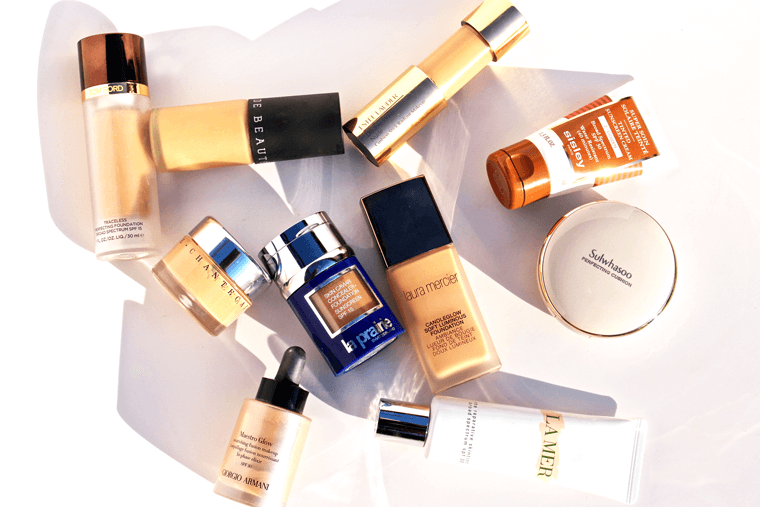 (1) Chantecaille Future Skin Foundation: The weightless, water-based gel cream (in a masterful range of rosy, neutral, and golden undertones) offers customizable coverage that lasts for hours while looking nearly invisible on the skin.
(2) Tom Ford Traceless Perfecting Foundation: One of the most stalwart formulas on the market, this liquid has a lush creamy texture that binds to skin for incredible wear time, even while poolside in extreme heat and humidity. With a spectrum of 15 shade offerings, you're sure to find a befitting match.
(3) Le Métier de Beauté Afterglow Foundation: Released just weeks ago, this incandescent foundation (in ten flattering hues) offers intense hydration via hyaluronic acid and medium coverage with a radiant finish that instantly perfects the canvas. The glow is impressive, and the wear time is astounding!
(4) Estée Lauder Double Wear Nude Radiant Cushion Stick: On counters in July, this gem combines the lasting power of the famed Double Wear formula with a lightweight, luminous element that is cleverly dispensed through a streamlined cushion applicator. Perfect for travel, it's the best of all worlds.
(5) Giorgio Armani Maestro Glow Foundation: Bi-phase brilliance, this foundation boasts moisturizing, skin-friendly oils and pigment-rich powders that, when shaken, create a glorious veil of light-medium coverage.
(6) La Prairie Skin Caviar Concealer + Foundation: Opulent on every level, this skincare-infused formula yields gorgeous, potent medium coverage (I get eight-plus hours of flawless wear) and contains a coordinating concealer for the ultimate in luxurious, utilitarian beauty.
(7) Laura Mercier Candleglow Soft Luminous Foundation: Delicately sheer, this foundation mimics the flattering radiance of candlelight while providing light coverage; try applying in the center of the face and working outward with fingers for a "no-makeup" look that emanates light.
(8) Sisley-Paris Tinted Sunscreen Cream SPF 30: Is it a sunscreen with the coverage of foundation or a foundation with noteworthy SPF? In either case, this rich and nourishing cream drenches skin in a protective shroud of medium coverage, making it a beach-day must.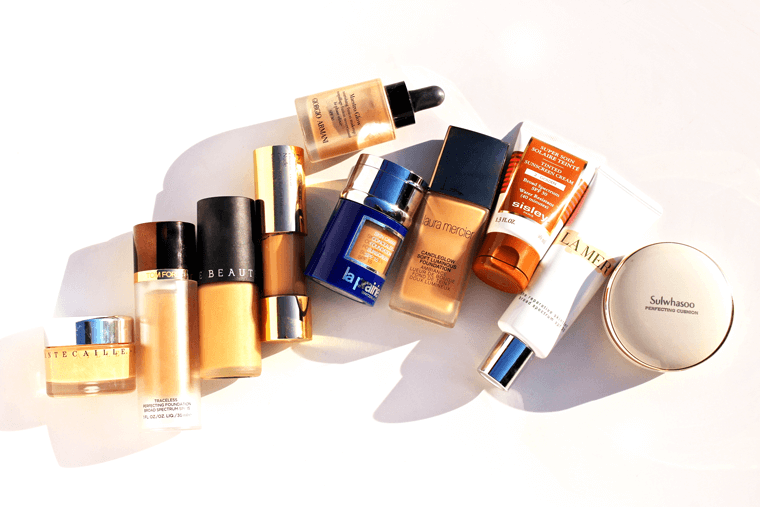 (9) La Mer The Reparative Skintint SPF 30: For a tinted moisturizer infused with the power of the "Miracle Broth," this lightweight formula stands alone. Wear it during a day at the park for a low-maintenance look that treats your skin beautifully.
(10) Sulwhasoo Perfecting Cushion SPF 50+: Arguably one of the best cushions on the market, the pearlescent compact holds a pore-blurring, skin-brightening, darkness-banishing formula that imparts long lasting medium coverage and otherworldly SPF. Once it sets, this gossamer cloak does not budge.