10 Minutes With: Ippolita Senior Manager Jamie Blacker
May 9, 2016
What woman doesn't love a shimmering set of 18-karat gold bangles and gorgeous gems to match? Ippolita Rostagno of Ippolita creates stunning pieces for women to wear any and every day. We had the chance to sit down with Ippolita Senior Manager of Education and Styling Jamie Blacker to discuss trends, her most-coveted pieces, and fun moments she shared with Ippolita at a recent photo shoot.
Neiman Marcus: Tell us about your experience styling for the shoot and working alongside Ippolita.

Jamie Blacker: I couldn't ask for a more inspiring mentor! Her creativity and love of craft shine through in everything she does. One of my favorite tricks she used during the shoot was connecting two necklaces together end-to-end and doubling them on the models neck to achieve varying lengths with two necklaces that were the same length.
NM: What is your favorite piece from the Senso: New Shape of Gold collection? From the Rock Candy collection?

JB: My favorites change all the time! Currently, in the Senso collection, I'm obsessed with the medium Senso Cuff. It is the perfect addition to any existing stack and also looks fabulous when worn alone. As for the Rock Candy collection, I love the Sofia Necklace—it's Ippolita's favorite, too! This piece is a major showstopper and includes every cut and setting of stone Ippolita has created.
NM: Tell us how the Senso: New Shape of Gold collection differs from past Ippolita collections.

JB: Senso, the name Ippolita has officially given the New Shape of Gold, has taken into consideration texture, weight, and craftsmanship more so than any collection to date. Senso has allowed us to communicate a new language in metal that not only looks great, but also feels incredible against the body.
NM: Ippolita collections were made for stacking and layering. How can every woman execute this styling technique flawlessly?

JB: Ippolita has carefully designed all of her collections to play well together. I've never seen two clients wear their Ippolita the same way. I always suggest that clients remember one thing—balance is key. Stacking multiple bangles on one arm? Always try to keep an odd number, then balance with a cuff or chain link bracelet on the opposing wrist. Leading with a busy neckline? Try to create varying lengths by connecting necklaces or wrapping one multiple times, then take it easy on the lobes and opt for a stud or a subtle drop.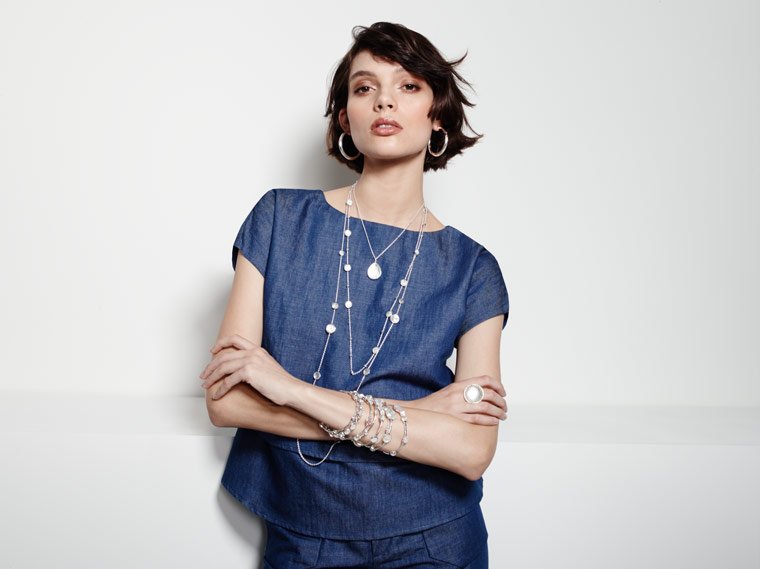 NM: Where can women wear Ippolita jewelry?

JB: Ippolita sleeps in it. Modern women work in it. I vacation in it. Celebs walk the red carpet in it. Simply put, our jewelry has no boundaries and is made to live in.
NM: Do you prefer a stand-alone piece or multiple pieces stacked together for an everyday look?

JB: Ken Downing said it best—more is MORE, less is a BORE. Whatever you choose, just own it and wear with confidence.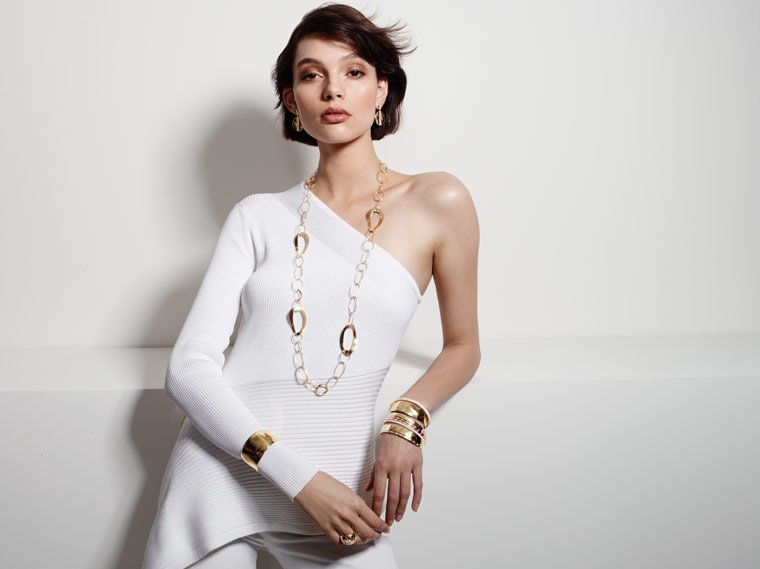 NM: A stigma still sometimes exists around the idea of wearing earrings, a necklace, and a bracelet at the same time. What is your opinion on this concept?

JB: Two words: balance and scale.
NM: Gold or silver?

JB: Both are great. Ippolita's 18-karat gold has a special place in our hearts because it was the foundation of our brand. Our silver is great because it is so bright and playful. Collections within both metals are made by the same craftsmen and executed with the same level of detail. Can't decide? Mix your metals! There are no rules here—wear what fits your lifestyle best!
NM: Any favorite moments you can share from the shoot?

JB: We had such a great day! At one point, we were supposed to be packing up to leave, but Ippolita was having too much fun interacting with the team. I turned around to see her taking a selfie with one of the photos of the model in the background. Meanwhile, the cameraman was intrigued and decided he would take a selfie holding some jewelry, with Ippolita doing the same thing in the background. I was able to capture a shot of both of them in action! Ippolita caught me doing it and was so tickled she decided everyone on set should wear jewelry and started passing it around!
Try stacking and layering these jaw-dropping pieces yourself! Shop the Ippolita collection at NeimanMarcus.com.