10 Minutes With: Kendall & Kylie
August 15, 2016
It girls Kendall and Kylie Jenner are taking the fashion world by storm. It's no surprise that the girls' initial clothing line was a hit, and they continue to create pieces their fans just can't get enough of! The Jenners' iconic handbag collection recently debuted in stores, and we can't wait to dive in.
We sat down with Kendall and Kylie to discuss their inspiration, favorite pieces, and upcoming releases.
Neiman Marcus: Your highly anticipated handbag collection launches soon. What can we expect from the collection?
Kendall: Kylie and I are huge handbag fans and collectors, so in creating our own line it was important to make something that fit perfectly with our ready-to-wear collection. We wanted to maintain our clean and modern aesthetic and bring an elevated and unique product to the Kendall + Kylie customer. We experimented with a lot of shapes and silhouettes, so there's definitely the perfect bag for everyone.
NM: You've said the collection was inspired by your favorite travel destinations — Tokyo, Big Sur, and London. Where else did you draw inspiration from?
Kylie: Our personal inspirations come mostly from what we're loving each season. We drew from some of our own favorite pieces and were really inspired to create bags that balanced design, functionality, and quality, while still making sure it was an accessible price point.
NM: Tell us about the different materials you worked with to create this collection.
Kendall: We used both smooth and pebbled leather in a rich classic palette — black, navy, white, and bordeaux. Some bags are accented with chain detailing, and we chose matte black hardware for every piece to add our own signature detail.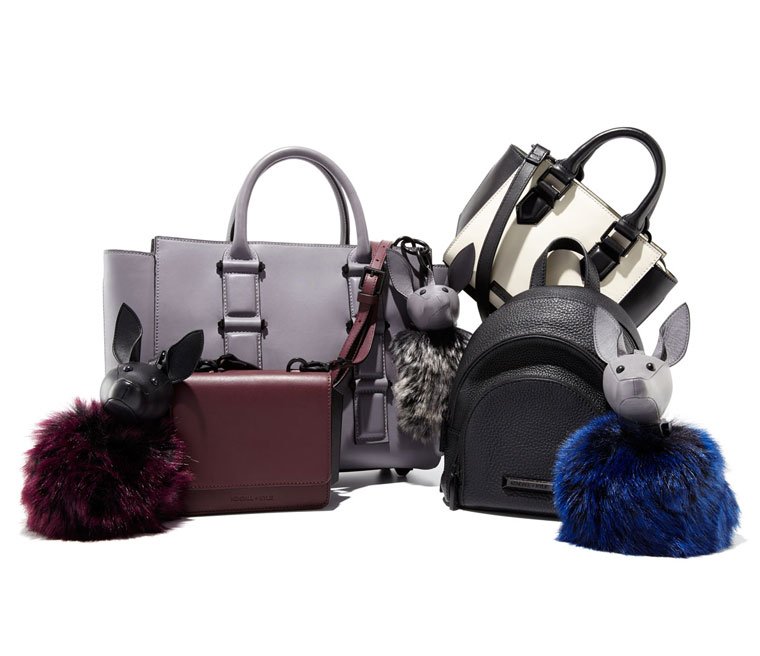 NM: Describe the woman you've designed this collection for. Where is she going with one of your pieces on her arm?
Kylie: The great thing is that each bag can be dressed up or down. We wanted to create styles that were built for every day and could be worn for pretty much any occasion.
NM: There are 18 styles in total. Which is the most versatile?
Kendall: I love the Brook Satchel. It's a great size and holds all of your essentials — from day to night.
NM: Tell us more about the specialty charms included in the collection.
Kylie: I love that we were able to add charms of my dogs to the line. They're super fun and the faux fur comes in multiple colors and sizes. I think they make our bags look really special and allow our customers to personalize and style their favorite Kendall + Kylie bags — which we love.
NM: If you had to pick a favorite from the collection, which would it be?
Kendall: One of my favorites is our take on a vintage briefcase, but in a mini croc version. It's the perfect statement piece for a night out.
NM: What is your favorite thing to hear from women purchasing your designs?
Kylie: My favorite thing to hear is that our customer feels sexy and confident when she's wearing one of our pieces. We want to create clothing, shoes, and accessories that make our customer feel good each time she's wearing them. It makes us both really happy to be able to share our inspirations and creations with the world.
NM: You've launched shoes, apparel, and now handbags. What's next?
Kylie: We have a few more accessories in the works. Kendall + Kylie is our lifestyle, so we can't wait to continue building our brand and making things that our girl will love.
Shop the Kendall and Kylie handbag collection at NeimanMarcus.com