10 Minutes With: Lubov Azria, Chief Creative Officer of BCBG
June 30, 2016
Mid-summer is upon us, and designers are rapidly releasing pre-fall collections in anticipation of the upcoming season. We were introduced to BCBG Chief Creative Officer Lubov Azria's creations in December and were struck with star-inspired designs. We sat down with Azria to discuss her take and how the brand has evolved over time.
Neiman Marcus: Tell us about your Pre-Fall 2016 RTW collection and the inspiration behind it.
Lubov Azria: As long days transition into event-filled nights, I was inspired by "jet-set-cool" travel and how to channel effortless glamour. The collection is infused with on-trend utilitarian separates, safari details, and neutral shades.
NM: The collection also introduced us to new shimmering fabrics. Why did you choose to work with these fabrics?
LA: The shimmering gold fabrics infuse this collection with a '70s feel, and the pieces can easily transition from day to night for a hint of evening glamour.
NM: Describe the woman you see wearing this collection. Who is she? What does she enjoy doing?
LA: We design for every woman—not just the major events in her life, but also for her lifestyle. In this collection, the socialite takes center stage as she explores new destinations and infuses her wardrobe with rich textures and bold silhouettes inspired by her travels, for a touch of urban cool.
NM: Which piece from this collection did you enjoy creating the most?

LA: They are all my favorites, or they would never make it into the collection. It's like being asked to pick your favorite child. But if I had to pick, the pleated, floor length skirt in liquid gold paired with a tailored camo shirt effortlessly blends the season's trends.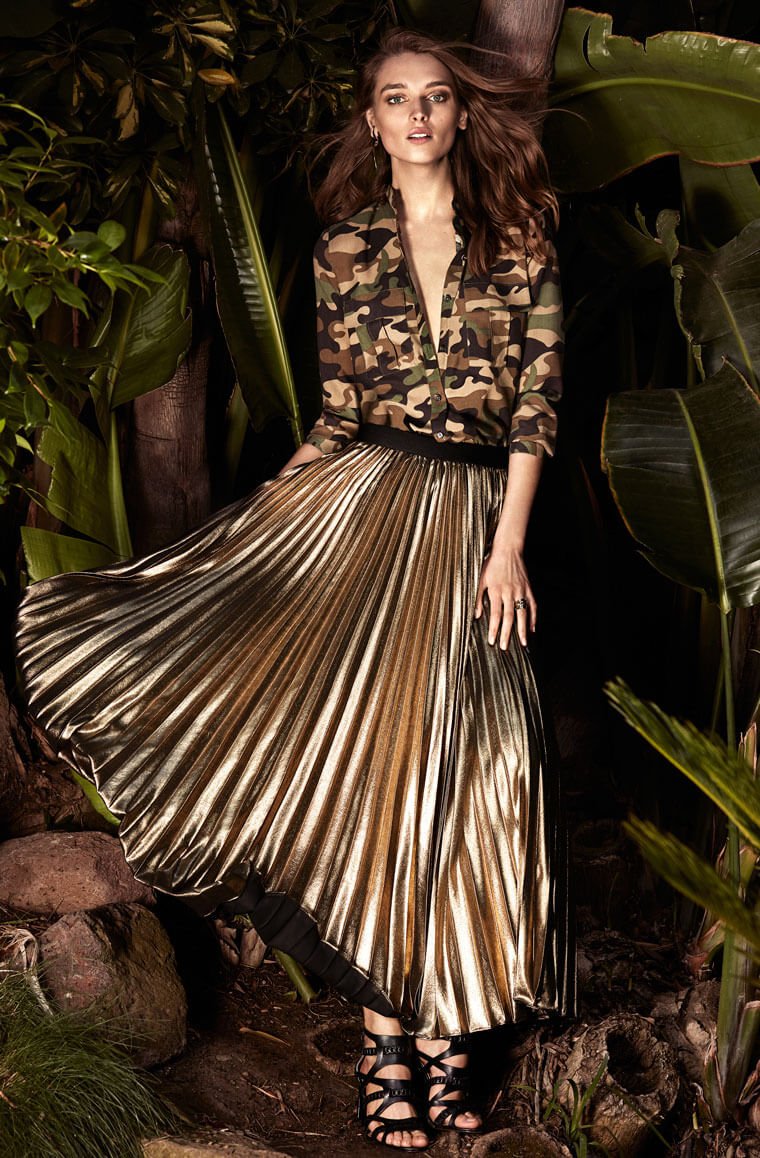 NM: In your opinion, how has BCBG evolved over time?
LA: As Chief Creative Officer one of my most important responsibilities is maintaining the integrity and vitality of our brands. We have a very strong brand DNA at BCBG. We know who our woman is—she is at the forefront of fashion and does it all. With every collection we create we continue to evolve our designs and incorporate new trends while keeping the brand DNA intact. BCBG has always provided sophisticated and wearable pieces that address all aspects of a woman's lifestyle, and our customers continue to come to us for just that.
NM: How has this been reflected in your recent collections?
LA: There is a significant change happening in fashion right now. Everyone seems to be moving toward more freedom—breaking the rules instead of making them. We've had a lot of fun with recent collections. For Fall 2016, we sent every model down the runway in Lurex® tops and leggings—inspired by the idea of a performer. For spring, we played with board shorts and bucket hats and paid homage to our California roots. With every ready-to-wear delivery, each collection is really an evolution from the previous season. However, we always focus on creating beautiful, stylish pieces that women can wear to achieve effortless style.
NM: If you could go back in time to present a collection again, which would it be?
LA: Again, I love all the runway collections for very different reasons as they represent small windows in time—almost like paging through a photo album. However, a collection that will always be near to my heart is the 2002 Fall/Winter BCBG Runway collection—our first show post 9/11. The collection was infused with references to warriors and speaks to the resilience of the human spirit, and how we can, and will, rise from adversity. This is a message that transcends seasons and celebrates the strength of women.
NM: What are three staple pieces every woman needs in her wardrobe for fall 2016?
LA: A great jacket or coat that you can dress up or down, a perfect tailored shirt, and of course a beautiful dress—preferably in a gorgeous lace for chic and effortless desk to dinner style.
NM: Which trend are you looking forward to most for Fall 2016?

LA: This season I am in love with lace, shine, bold colors, and our signature prints. The unexpected combination of luxe fabrics in utilitarian silhouettes, or vice versa, gives each look a slightly tomboy-inspired edge.
NM: What secrets can you share with us about the upcoming Spring 2017 collection?
LA: The next collection is inspired by African crafts—weaving in particular. Vivid colors and new mediums are blended in a very traditional way. African artists have taken their centuries-old craft and updated it by using new materials. The juxtaposition between old-world artisan with new-world technology and how they blend together creates something truly unique.
Shop some of the latest pieces from BCBG at NeimanMarcus.com