A Conversation With: Karlie Kloss
August 2, 2016
Over the past few years the world of activewear has transformed into a fashion-focused and lifestyle industry. Stella McCartney began collaborating with Adidas back in 2013 and has continued to provide us with sportswear that is as functional as it is fashionable.
Supermodel and fitness enthusiast Karlie Kloss is the new face of the Adidas by Stella McCartney Fall/Winter 2016 collection, which was inspired by none other than superheroes. Kloss's exciting new project focuses on empowering women from all walks of life, while always staying on-trend.
Read on to discover more about the collection and how Karlie manages to balance a busy and healthy lifestyle.
Neiman Marcus: You're the face of the new Adidas by Stella McCartney Fall/Winter 2016 collection. What makes this the perfect choice for you?

Karlie Kloss: Movement is a constant in my life—whether I'm working out, on a fashion shoot, or traveling from city to city. The Adidas by Stella McCartney collection combines fashion with fitness in a way that perfectly fits my lifestyle. The styles are lightweight, chic, and created for the modern woman on the go. Stella's collaboration with Adidas continues to be the perfect balance of high fashion apparel built for high performance.
I love the fact that this season's collection is inspired by the everyday athlete and can be worn while you're running, doing yoga, or going for a hike. This collection helps women who are juggling multiple things at once feel empowered, stylish, and celebrated for their hard work and commitment.
NM: You're a global style icon and have walked for Stella McCartney in several shows. What does it mean to you to be working with Adidas by Stella McCartney?

KK: It's such an honor to work with these iconic brands and be part of a campaign that speaks to my passion for both fitness and fashion. Adidas and Stella McCartney are both innovative brands that constantly push the boundaries of fashion, movement, and style.
NM: You're dedicated to incorporating activity into your daily routine—from Pilates, to running, and resistance training. Do you see exercise as an integral part of your lifestyle?

KK: Fitness has such a positive impact on my life. Exercising and moving make me feel more energized, balanced, and healthy—inside and out. After a long flight, chaotic photo shoot, or a day running between meetings and classes, there is no better start or end to the day than taking a long run to clear my head and relax.
NM: The Fall/Winter 2016 Adidas by Stella McCartney campaign is inspired by superheroes. What inspires you?

KK: I'm inspired by strong, independent women who have the passion and strength to follow their dreams and define their own path. My mom is a huge inspiration to me—she's raised four daughters and pursues her passion for the arts every day. She's taught me to believe in myself and find inspiration in the people around me.
NM: How do you think Adidas by Stella McCartney has changed the face of women's sportswear?

KK: I think Stella McCartney has redefined sportswear for women. She has created stylish and fashion-forward activewear that pushes the boundaries of women's fitness. Every season brings fresh, new designs, and as sports technology continues to evolve, so does the brand.
NM: Which are your favorite pieces from the new collection and why?

KK: I love the dedicated Studio HITT pieces. They're designed for speed, power, and mobility—which is perfect for me when I'm working out and pushing my personal fitness boundaries. Stella McCartney adds so many amazing, stylish details to each piece—everything from neon-yellow laces to floral details. The pieces are also perfect for layering which is helpful when you're going from a workout to lunch, and then to class, or to run errands.
NM: You have 4.8 million followers on Instagram. Do you see this as an opportunity to express yourself? Why do you think people like to keep up to date with you on social media?

KK: I started using Instagram four years ago as a way to connect with my family and friends while I was traveling. It's been exciting to watch technology evolve and social media grow, especially in the fashion industry. I see Instagram as an opportunity to share my experiences and connect with people all over the world.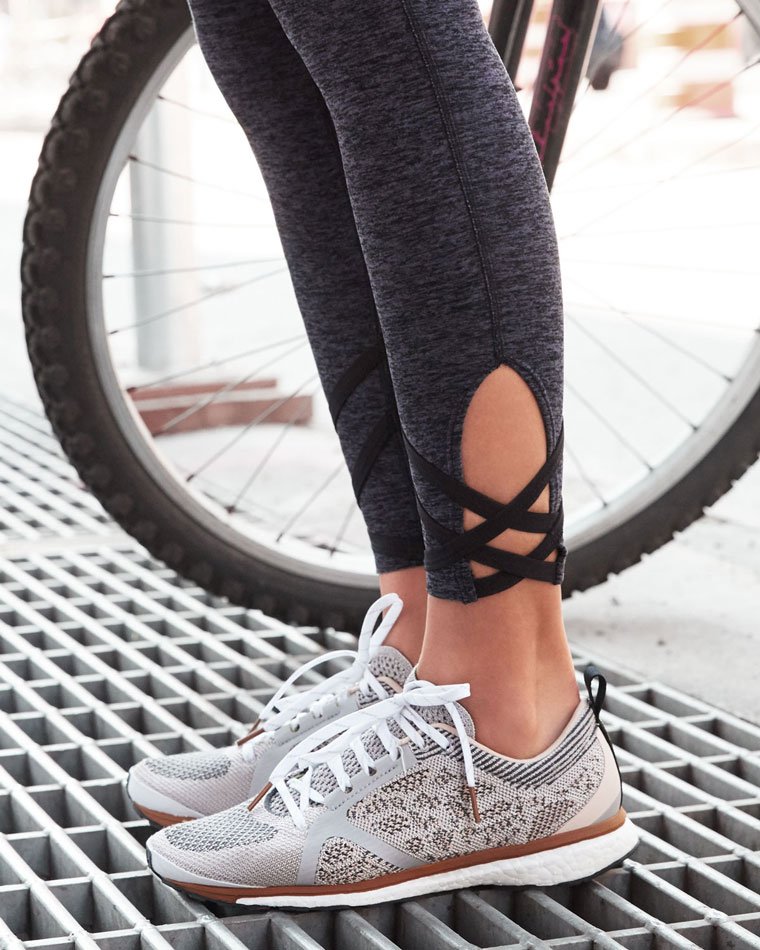 NM: You often use hashtags such as #FitnessFriday and #MotivationMonday alongside images of your workout. How do you keep motivated with such a busy schedule?

KK: Fitness is a huge part of my life—it gets me ready to tackle the day, and I leave my workouts feeling energized and refocused. I exercise for my mind and wellbeing—not just for my body. I love mixing up my week with different workouts like running, bike rides, or dance classes.
NM: You've worked on a huge variety of things, ranging from runway shows, to beauty products, and you're still able to make time to do all the things you love. Why do you think this is important?

KK: I'm a naturally curious person, and my different projects really feed my curiosity and ambition. It's important to me to always try new things and challenge myself to pursue my different passions.
NM: What is your favorite way to wind down after a hard workout?

KK: After a workout I stretch, hydrate, and refuel with a protein-rich snack or meal.
NM: You get to travel the world for your work—what cities have inspired you most?

KK: There are so many places to choose from, but Paris is one of my favorite cities of all time. The food, sights, culture, and museums are all so breathtaking. I will also always have a place in my heart for New York. The constant movement and rhythm of the city is a great motivator for me to keep going and bring my best to everything I'm working on.
NM: Which shoes from the collection are you the most obsessed with?

KK: The Adizero Adios Knit Sneakers are great for running.
NM: Quick-fire round–pick your preference in one word.

Skiing or snowboarding? Skiing (on the bunny slopes)
Downward dog or sun salutation? Sun salutation
City or countryside? City during the week and country on the weekend
Indoors or outdoors? Always outdoors
Group exercise or solo practice? Both
Milk or dark chocolate? Dark chocolate
Long runs or sprints? Long runs
Swimming or sunbathing? Swimming
Handstands or cartwheels? Cartwheels
Coding or shopping? Coding!
Style or functionality? Both! They're not mutually exclusive.
NM: Say the first thing that comes to mind when we say:

Studio: Dance
Snow: Boots
Social media: Connection
Running: Thinking
Pilates: Stretching
Shop the Adidas by Stella McCartney collection today at NeimanMarcus.com.