A Conversation With: Lafayette 148 New York Creative Director Emily Smith
October 11, 2016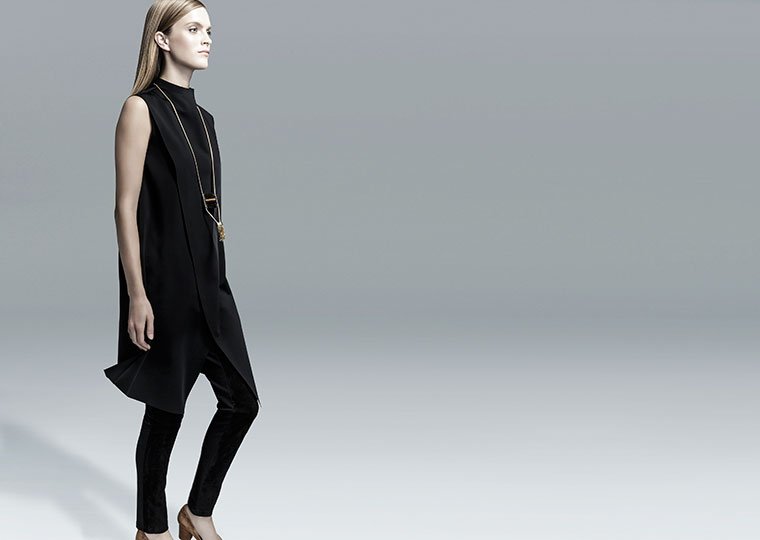 Twenty years ago, there was nothing at all fashionable about 148 Lafayette Street in New York. True, the garment factory at that lower Manhattan address turned out apparel for companies like Anne Klein and Bill Blass, but the neighborhood felt light years from the upscale environs of the women who actually wore those clothes. The moment of change came in the form of a decision. On an otherwise ordinary day in the mid-1990s, Shun Yen Siu, the factory's owner, decided it was time to begin the journey to realize his vision: to evolve his factory into a brand and build a vertical fashion company.
It was a bold move, but Siu was determined. He knew there was a way to get closer to the customer. He had the ability and the resources to make a high-quality product, and with the right partners his vision could become reality. Teaming with his wife, Ida Siu, and Deirdre Quinn, who knew the apparel industry from her years at Escada, Liz Claiborne, and Donna Karan, he set out to create a collection of wardrobe essentials for professional women—using the best European fabrics and the kind of craftsmanship normally found only among high-end designers. In 1996, with the label set to launch, "We sat around a table and thought 'What can we call this company?'" recalls Quinn, now the label's CEO. "The best idea that day was the address of the building."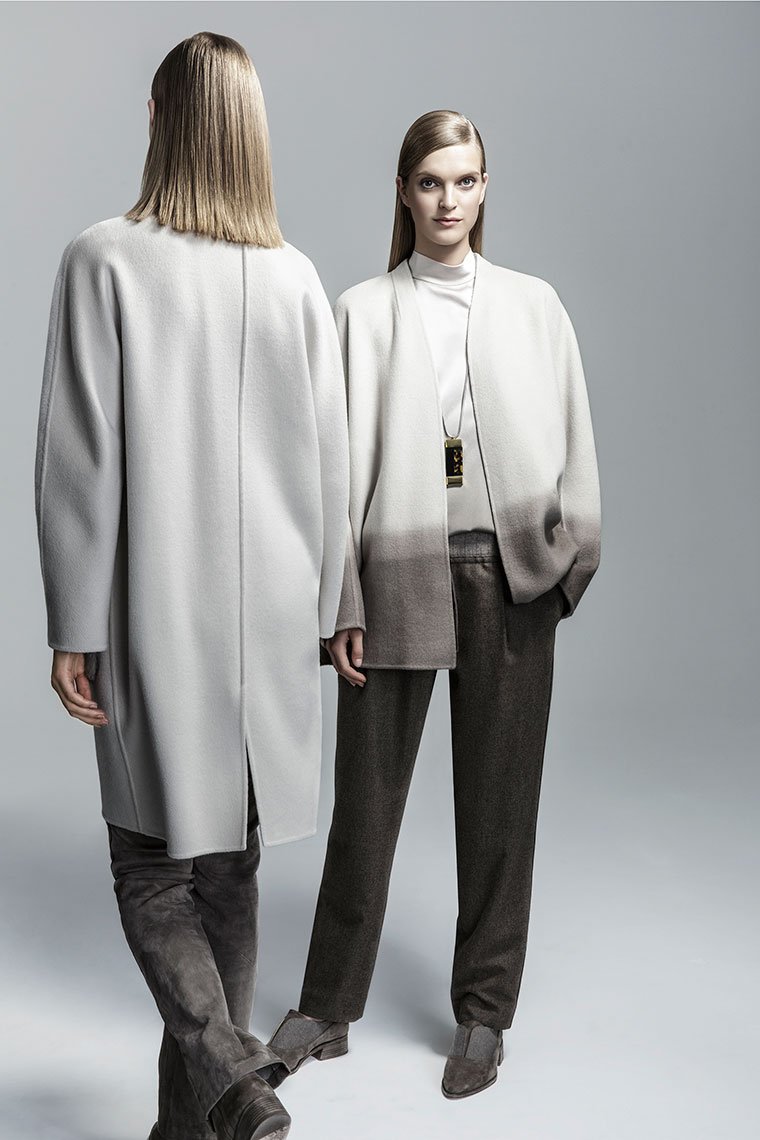 As luck would have it—literally—the company's new name (Lafayette 148 New York) was auspicious. In Chinese culture, the number 8 is a symbol of good luck. That's why the price of every piece in the collection still ends in an 8, and also why the company's by-appointment-only concept store is located on the eighth floor of its headquarters.
Luck indeed. Twenty years later, what began in a single room now occupies seven floors, and the one-time factory houses a showroom, design staff, patternmakers, and marketing team in a bright loft-like space with high ceilings and large windows. Production takes place in a state-of-the-art design and manufacturing facility in Mr. Siu's hometown of Shantou, China.
By making good on the founders' vision to control every step of the process—from design through production—Lafayette 148 New York has slowly but steadily become what The New York Times called "one of fashion's quietest success stories."
We recently had the opportunity to sit down with Creative Director Emily Smith to discuss her experience watching the brand evolve.
Neiman Marcus: In Chinese culture the number eight is a symbol of good luck. The number eight also happens be to very important in the brand's history and culture. Do you have a lucky number/number that has a special meaning?
Emily Smith: Yes, 834. It's not necessarily my lucky number, but has sentimental value to me—it's the number of my grandmother's address. She was a quirky, adventurous spirit, and I hold such fond memories of her stays. Whenever I see 8:34 as the time, on a receipt, or as an address, I secretly have a little conversation with her. She is in my heart and with my spirit every day. I wonder if she's watching from above, enjoying my travels and own adventures!
NM: What does your typical workday look like?
ES: It depends on the season, the moment in that season, and where we are in the design process. My favorite part of the season is when we are in the thick of it, in our design and manufacturing facility, with two weeks left before collection is due. The stress level is high, and all the pieces are coming to life. I love seeing my design team get excited as their ideas and visions for the full collection come together as a single story.
NM: How would you describe your personal style?
ES: Approachable, cool, effortless, smart, polished, and comfortable. Never overdone—neutral colors and, of course, black and navy. I like a cozy ecru over optic white—minimal and clean. I do love the balance of old and new, East and West. I have always loved antique Asian furniture and pieces. They're a subconscious influence for me, as is architecture. Mixing and blending that organic aesthetic with a clean, modern one satisfies my need for feng shui. I love shapes over patterns and prints. However, a good print accent is always chic—a printed scarf with a solid navy sweater, or an embellished pillow on a gray sofa. My space and wardrobe are cozy, inviting, clean, and never messy. If there's too much stuff, I can't concentrate.
NM: You have confessed to have an obsession with shoes. Is there a pair at the top of your current wish list?
ES: The luxe loafer! Gucci definitely started this trend. I love the version with the small heel. It's menswear-sexy-chic, as well as, cool and comfortable.
NM: Do you have any designers that you look up to?
ES: When I was younger I was obsessed with everything Donna Karan! She sparked my love for fashion. Her clothes were wearable, and I loved the idea of '90s New York glamour.
I also love history and everything about Coco Chanel—she is the ultimate icon! Her ability to break boundaries, be true to who she was and what she wanted, work extremely hard, and absolutely love the product—she changed the fashion world forever. I always admire and am intrigued by designers who have that similar sensibility—forging new trends and changing the way we see fashion.
One of today's designers at the top of my list of praise is Maria Grazia Chiuri. I loved what she did in partnership with Pierpaolo Piccioli at Valentino, and am excited to see what she does in Paris this fall at Dior.
I also admire Phoebe Philo from Céline. I can never get enough of her shoes! She knows what a smart woman wants.
And I can't forget The Row. For Barbara Gast (Chief Creative Officer at Lafayette 148 New York) and me, what they are doing is beyond smart! It's simple but chic, yet not so simple at the same time. They have a wonderful sense of cut, proportion, and quality.

NM: You have spent almost your entire career working at Lafayette 148—working your way up to Creative Director. What advice do you have for others who are looking to achieve the same kinds of goals?
ES: For me, it was a balance of patience and hard work. I looked at all projects as an opportunity to learn versus "more work." Young designers need to know their job goes beyond having ideas and sketching—you have to know how to make the garment! Learn quality, construction, and be prepared to never stop learning. It is a labor of love, and it is a lot of work—be committed and patient.
I was really lucky to meet Barbara Gast and have her as my mentor. She has taught me an incredible amount over the years. And while luck might have drawn us together, I'm so grateful that I was sensible enough to recognize what I could learn from a person like her. I've currently accepted the opportunity to do a mentorship at the Savannah College of Art and Design, where I graduated from 15 years ago. I'm really excited about that and hope I can pass on what I've learned from Barbara to the next generation.
NM: You gather inspiration everywhere, from architecture to Instagram. What are a few of your favorite Instagram accounts that you follow?
ES: I don't really follow bloggers or celebrities. I follow designers, design houses, artists, architects, and photographers. I like to see what people are producing and where they are going for inspiration.
NM: What was the last thing or place that inspired you?
ES: I was in Bhutan over the summer on vacation—the culture and country are so beautiful there. The people were so pure, kind, and naturally beautiful. Many still wear their traditional clothing. I found it so inspiring and refreshing, as it was so completely different from what we see every day.
NM: Part of your job is evolving the brand in a way that attracts the next generation of followers without alienating the loyalists who rely on Lafayette 148 New York for the label's signatures. How do you plan on achieving this goal?
ES: Barbara, my team, and I spend a lot of time talking about what we want in our wardrobe, and we start there. It's a wonderful balance—having that blend of generations within the design team to find that perfect mix. We don't focus on an age or a demographic. Instead we focus on a lifestyle and a mindset. We know our customer is intelligent, that she is working, traveling, busy, and of all ages. She is pursuing important things in her life and needs the wardrobe that will allow her to feel good doing so with style.
In general, fashion is becoming more and more relaxed both for our emerging followers as well as for our loyal customers. Our goal is to continue to expand this leisurely take on luxe, creating full lifestyle collections composed of polished and pulled-together fashion, as well as provide that clean-chic look our loyal customer comes back to us for every season. We love seeing our emerging customers responding to our fashion-forward pieces and styling them their own way—that's important to us.
NM: What's next for the brand?
ES: As we head into the future, Lafayette 148 New York will continue our U.S. and global retail expansion, broaden category offerings (more shoes, jewelry, and knitwear), and delve deeper into sustainable practices and materials.
Shop the latest from Lafayette 148 New York at NeimanMarcus.com.