#NMweddings: Over the Moon: Your Wedding Inspiration Destination
June 22, 2016
(Laura Dopp and Andrew Tracy's wedding, photo credit Justin Mott)
With wedding season upon us, our Instagram feeds and Pinterest boards are flooded with images of cascading gowns and pastel flower arrangements. Whether a revisit to Kate Middleton's bridal moment or seeing recently engaged friends from college, we welcome all wedding updates and photos to our newsfeeds because, let's face it, we love love.
The same can be said for Alexandra Macon and Andee Olson, founders of our favorite wedding blog Over the Moon. As the Managing Editor of Vogue.com and the Site Director of The Coveteur, Alex and Andee are nothing short of a dynamic duo. While leading highly successful careers in editorial fashion, the two decided to start their own project, putting the boss in #girlboss. Over the Moon features fantasy weddings, fashion favorites, and heaps of bridal inspiration. We had the opportunity to interview Alex, getting the full scoop on the cofounders' careers and how they started Over the Moon. Alex and Andee also share their favorite wedding moments along with their perfectly curated Neiman Marcus wedding edit.

(Above: Spring style inspiration from Vogue.com, shoppable on OTM. Bride Mollie Ruprecht and her ivory-clad bridesmaids. Photo credit Joshua Bright)
NM: First, how did you and Andee meet?

Alex: We met when we started working at Vogue.com at around the same time. I began in the spring of 2010, and Andee was hired that summer. We immediately hit it off because we're both Southern girls in the big city—plus, Andee went to UVA where my husband attended college, so even though there's more than a few years between us, our friend groups overlap from time to time, and from books to workouts to a shared online shopping problem, we've always had a lot in common.
NM: When did you decide to start Over the Moon, and how did the idea come to be?

Alex: I oversee the wedding coverage on Vogue.com, and it's one of the things I love most about my job. I really enjoy picking the photos and working with the brides to tell their stories.
Over the years, Andee and I have attended a lot of beautiful weddings. We always talked about how we wanted to create a place to showcase our friends' and friends of friends' big days. There is so much noise when it comes to weddings—there's either too much to sift through, or the images are stunning, but completely unattainable. So in the summer of 2015, we launched a site devoted to chic weddings that are aspirational, but also very relatable.

(Above: Brooks Horton and Sam Lyddan's wedding in Lonesome Valley in Cashiers, NC. Photograph by Marcus Krause Photography)
NM: What are some major sources of inspiration behind Over the Moon?

Alex: Friends' weddings, weddings featured on Vogue.com, royal weddings, our favorite wedding planners and bloggers, fashion and interior designers, movies, and Southern cities like Charleston and Charlottesville, where we've either grown up or spent a lot of time.
NM: Who is the typical OTM reader—is she a millennial, a bride-to-be, or simply a fellow wedding connoisseur?

Alex: She is all of the above. We hope brides-to-be will find tips, inspiration, and ideas on the blog, but we also want it to be a fun read for those who aren't engaged, are already married, or may never even want to get married.
NM: What do you hope to bring her through the blog?

Alex: We hope to provide a place where she can peruse photos and stories that delight and inspire.

(OTM Wedding Dress Favorite: Sally King Benedict's Oscar de la Renta peplum gown. Photograph by Anna and Spencer Photography)
NM: You each lead highly coveted careers in editorial fashion. How have your experiences contributed to creating OTM?

Alex: We've learned so much from working at Vogue.com and through Andee's new role as Site Director of The Coveteur—we've had a lot of fun taking what we do in our day jobs and applying it to OTM, something that's all our own.
NM: In creating OTM blog, what has been the most fun or fulfilling part?

Alex: Hands down, hearing from readers. We love reading comments on our Instagram (@OTMBlog) and receiving emails via our Contact Us page. It makes working after hours on a blog that you're not sure anyone is actually reading worthwhile.
NM: What do you typically look for when featuring a wedding on the blog? Has creating OTM blog changed your outlook on weddings in any way?

Alex: We look for beautiful pictures, couples with interesting careers, an adorable meet-cute, or a touching love story—the reasons why we choose to feature a wedding run the gamut. But all of the weddings we cover capture a couple committing themselves to one another, the joining of two families, the creation of a new one, and love at its most hopeful.
(Above: Lindsey Burnett and Reed Coleman's wedding in Palm Beach)
NM: What has been your all-time favorite bridal-fashion moment, whether the bridesmaids dresses, an attendee, or the bride herself?

Alex: Waking up at 4:00am to cover Kate Middleton's wedding to Prince William was exciting for both of us. We arrived at the office practically in our pajamas and huddled around the computer watching the livestream—it was like a slumber party! We couldn't wait to find out who she was wearing and cheered when we learned it was Sarah Burton for Alexander McQueen.
NM: All biases aside, can each of you pick one favorite wedding experience?

Alex: My friend Christy Maddox's wedding was very special. She had planned a "rustic chic" weekend at Lake Rabun, where she grew up vacationing with her family. The weather refused to cooperate, though. It poured nonstop, and most of her arrangements had to be reorganized at the last minute. Her outdoor ceremony was moved indoors, and instead of being transported by boat, guests were shuttled around the lake in sprinter vans. The ceremony was not as she envisioned it, but as we stood on the lower level of the pavilion where her reception was about to take place—listening to Christy and her now husband exchange their vows with the rain falling just beyond them—I was reminded that it's not really all about the dress, the flowers, etc. (even though we have a lot of fun showcasing those aspects on OTM!). At the end of the day, it's about two people deciding to share their lives together, and that's why there's a celebration in the first place. Her wedding made that clear, and I'm convinced that's why it's the most popular wedding we've featured on the blog—the genuineness of it comes through in her quotes and the photos.
"After such an emotional day of dealing with the ups and downs of the weather and the stress of making sure everyone arrived safely, he stood up there and in such a strong and confident voice stated his vows to me. It made me remember that nothing mattered except for those words and rain or shine, he was almost shouting them."
Andee: My favorite wedding is the most recent one I attended in Florida. Not only was it for my favorite couple, but I am very close to the bride's entire family. Everything about the weekend was absolutely perfect—from the weather, to the location, to all of the tiny details the bride and her mom came up with. The father-of-the-bride's speech had everyone in tears, the band played longer than any wedding I've been to, and to top it off, there was the most gorgeous Florida sunset I've ever seen. It truly was perfect. And, most of all, I just felt so much love in the room. Both the bride and the groom come from loving, tight-knit families, and they both have supportive and caring friends, so when you take that combination and put it all together in one tent, it makes for an unforgettable night. I can't wait to get the photos from this wedding up on Over the Moon! Stay tuned!


(Left: Alex photographed by Marko McPherson in her hometown, Charleston. Right: Andee, photographed at the Museum of Art Costume Institute Ball)
ALEX AND ANDEE'S WEDDING EDIT
For the Bride: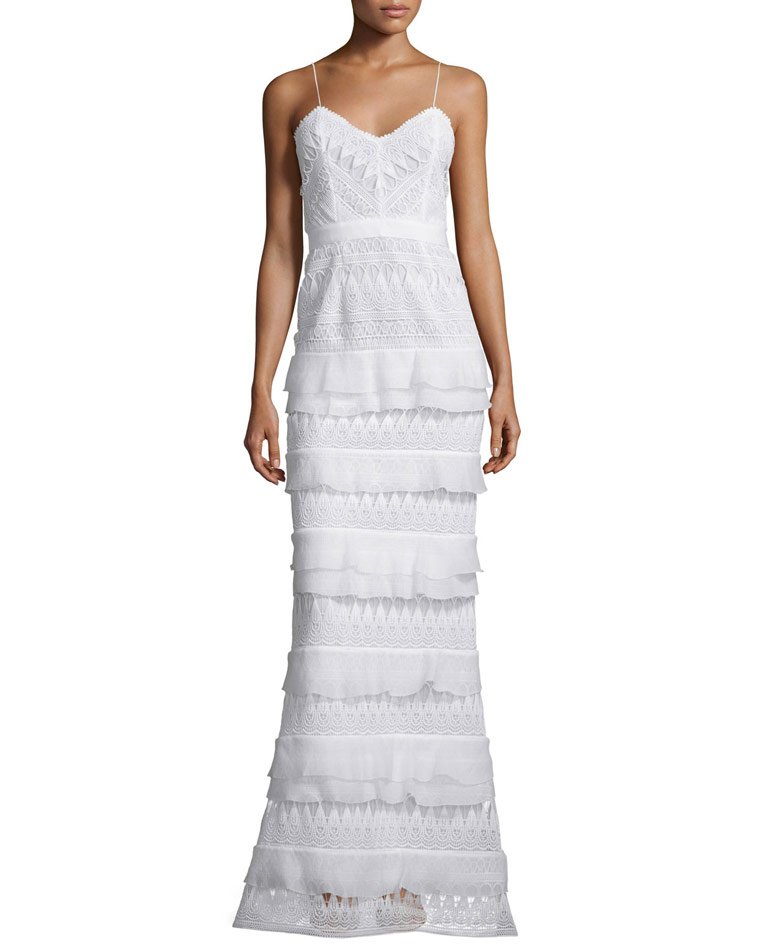 "We have been obsessed with Self Portrait since day one—and their Penelope dress ticks off all of our boxes. It's beautiful white lace paired with a Princess seamed bodice—perfect for everything from a beach wedding to a cocktail party in the lead up to the big day."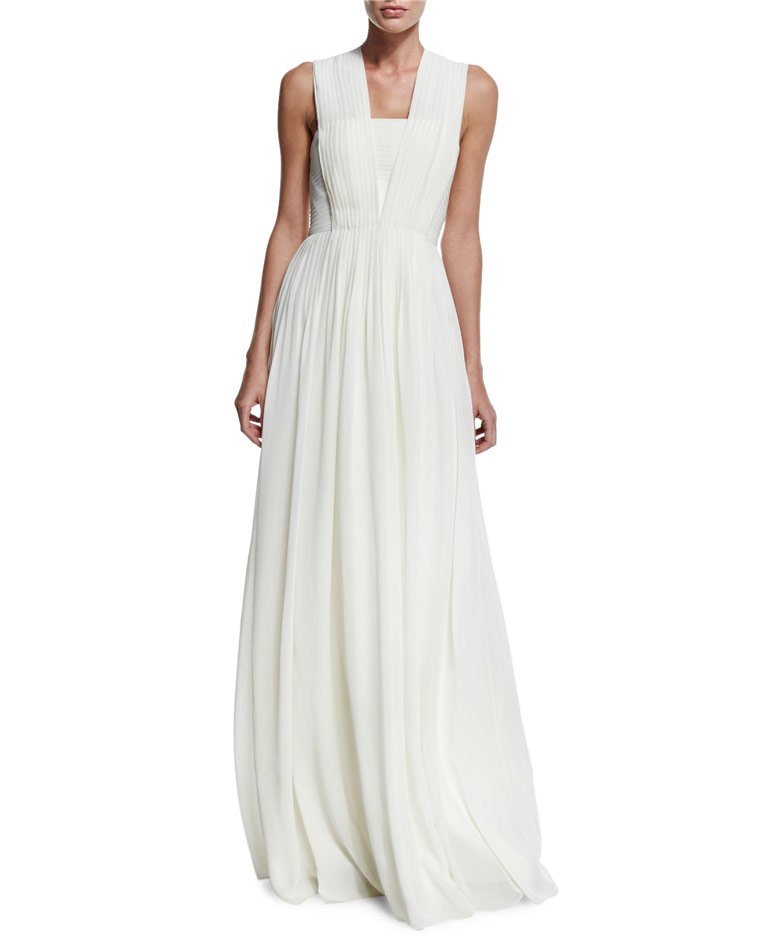 "This Badgley Mischka dress is subtle and sophisticated—it's well-suited for a traditional bride who wants a classic look. We could see it at a City Hall wedding."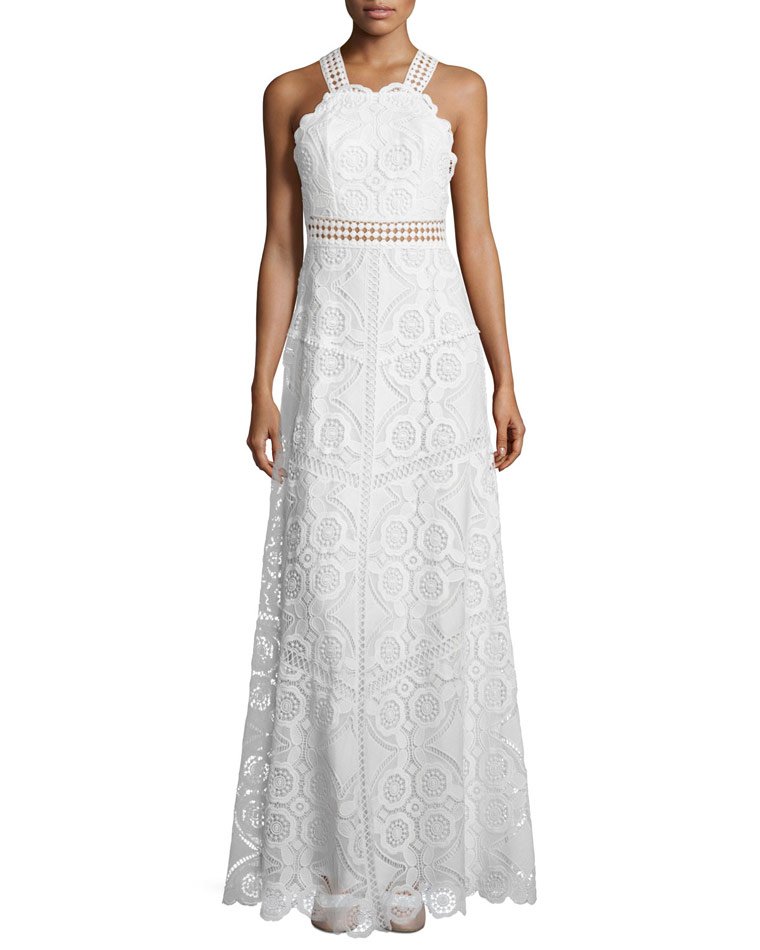 "Alexis is another brand favorite of ours when it comes to white lace creations. We think this dress of theirs is particularly pretty and would work well at almost any weekend wedding event."
For the Best Dressed Guest: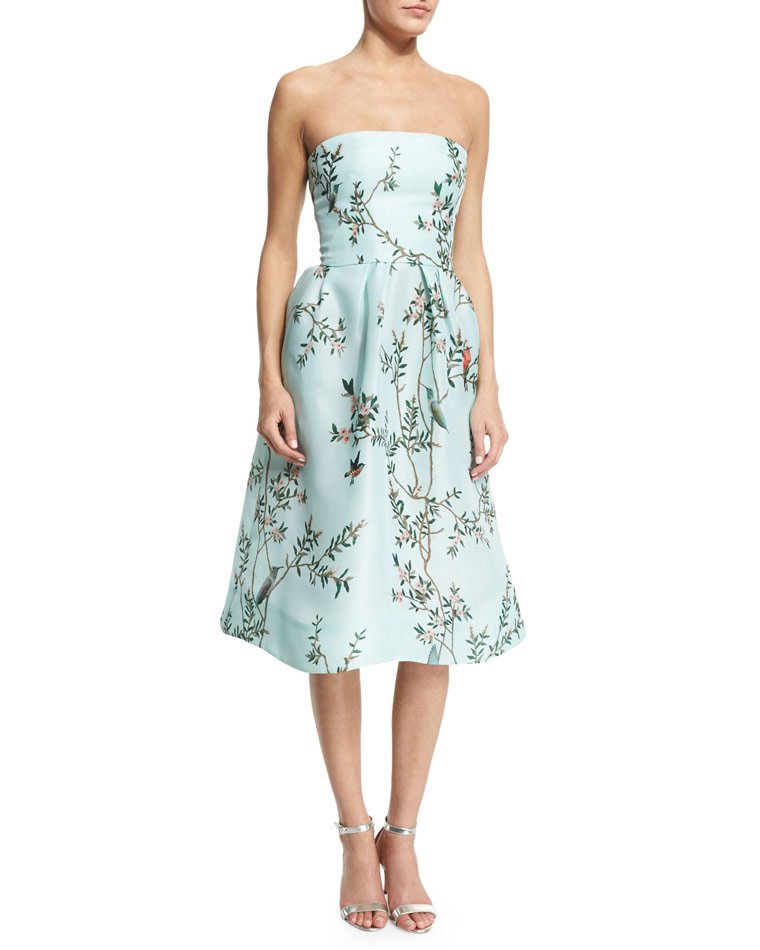 "This bird print by Monique Lhuillier is a feminine pattern in a pretty palette—just right for a celebratory event like a wedding."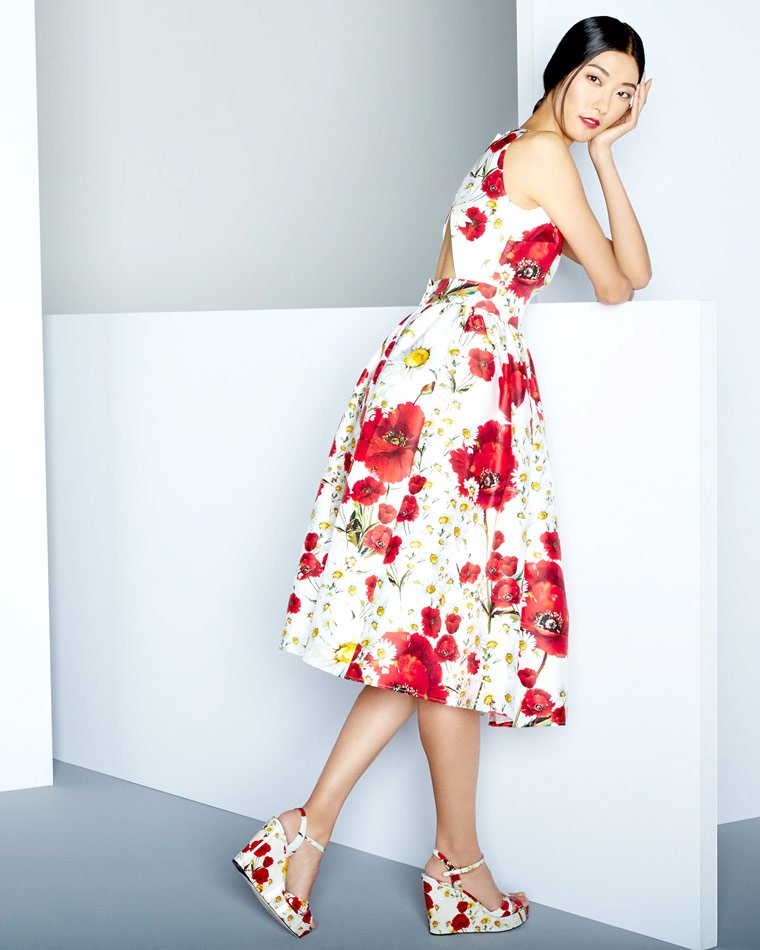 "The colors of this Dolce & Gabbana open-back poppy and daisy party dress are upbeat and festive—great for a garden party event during a spring wedding weekend."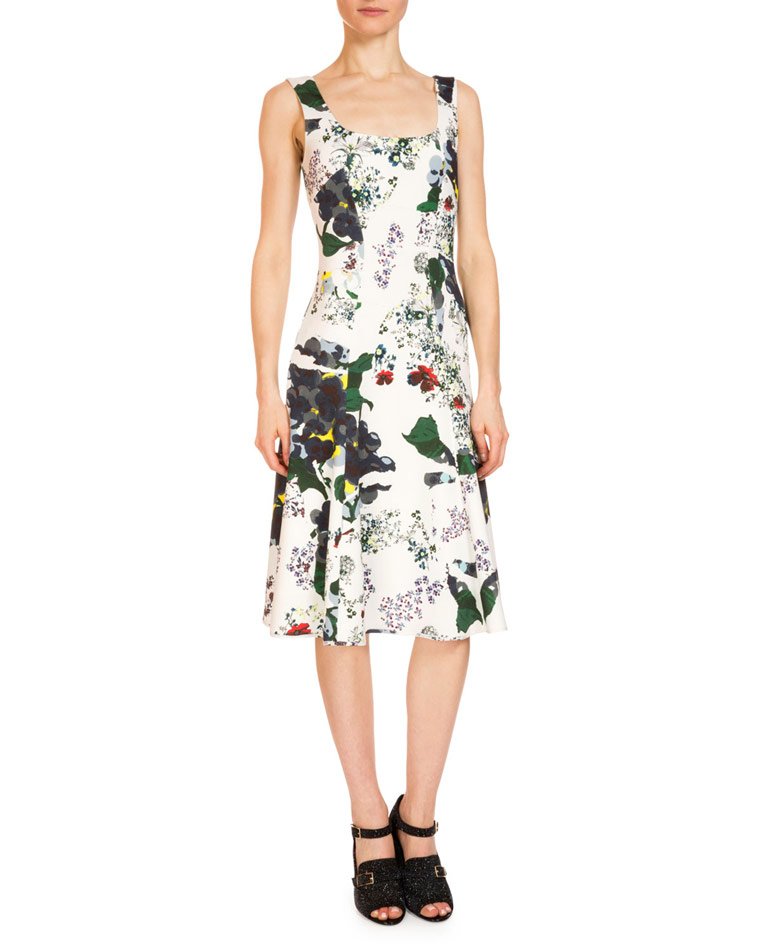 "Erdem's fit and flare dress is well-suited for the welcome party that kicks off a big city wedding."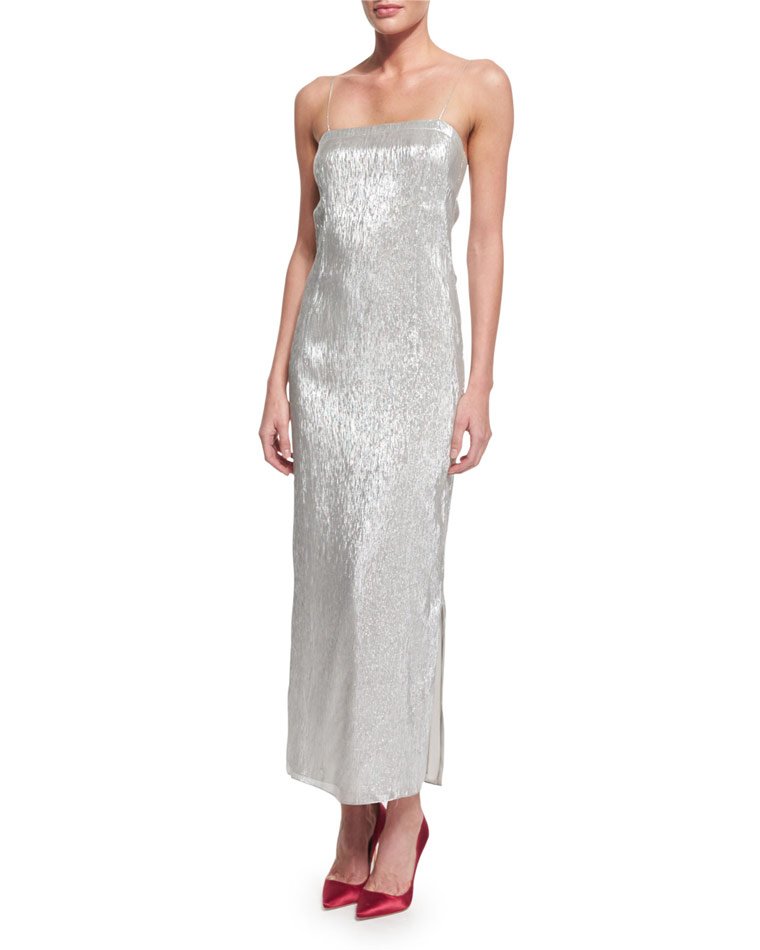 "This silver sleeveless metallic column gown by Adam Lippes guarantees you best dressed guest status at a black tie wedding."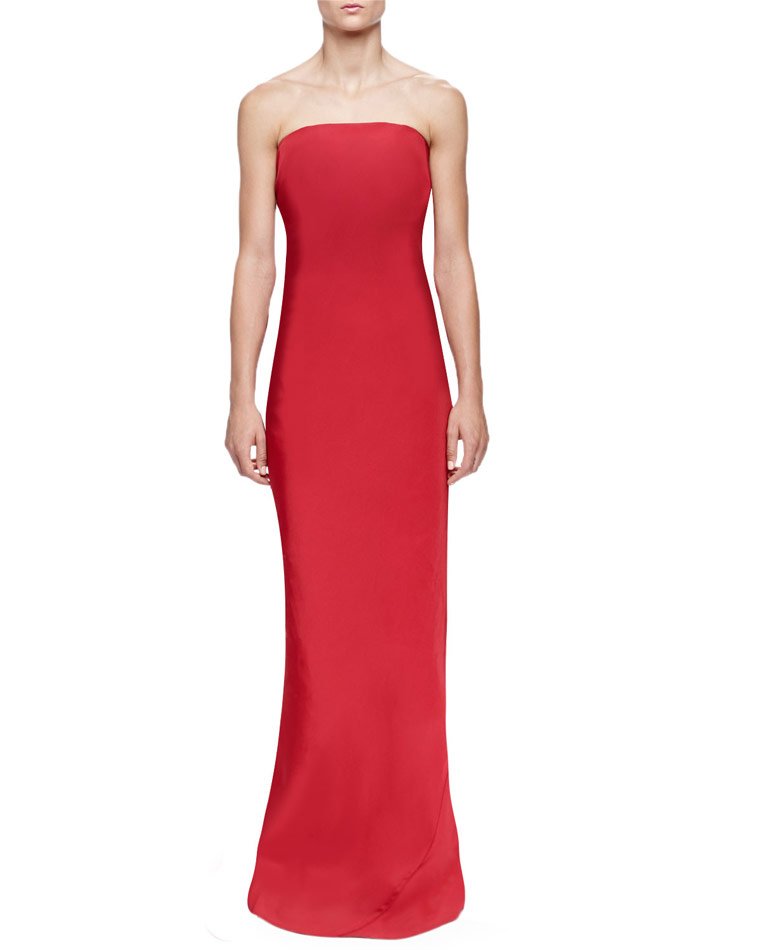 "Lanvin's red ruffle-back column gown isn't vampy or overdone, so you don't have to worry about appearing as though you're trying to upstage the bride on her big day. It's simply a classic that you'll likely wear time and time again."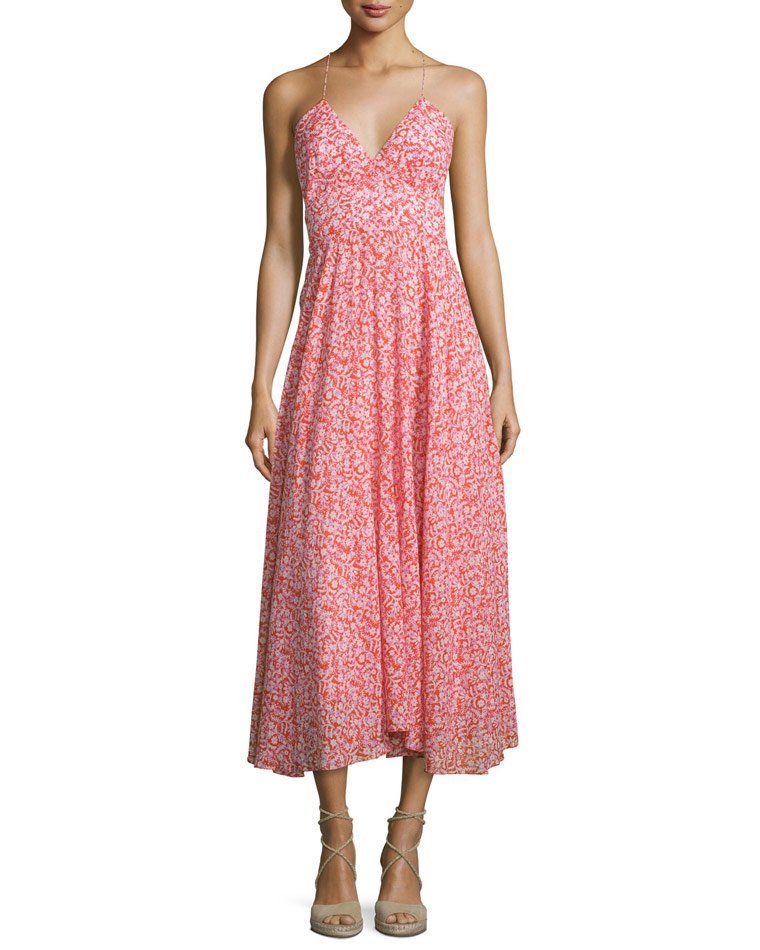 "This sleeveless Rebecca Taylor floral midi dress is fun and flirty—which works well for a cocktail party in the lead up to the main event."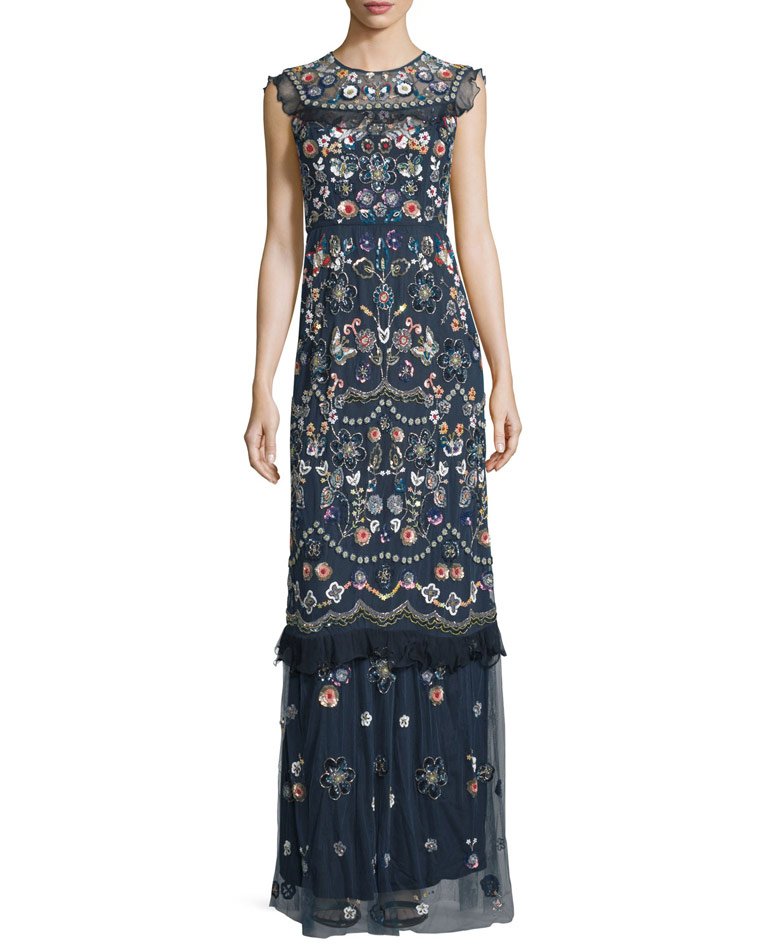 "This embellished dress by Needle & Thread is a nice choice for a black tie wedding in a far flung locale."
Visit Over the Moon to get your dose of love stories and style from fashion's finest, Alex and Andee!