#NMweddings: Assistant Buyer, Cait Mastorakos
July 6, 2016
NM Assistant Buyer Cait Mastorakos has an eye for design and thoughtful details. After her engagement to now-husband, Panayioti Mastorakos, Cait set out to create a rustic California wedding inspired by the rich textures and neutral palette of a desert backdrop. Aside from aesthetics, her Irish heritage also played a role — with one pivotal highlight being a toast from her grandfather.
The beautiful couple exchanged vows on April 30, 2016, at the O'Donnell House in Palm Springs. The evening was elegant, lavish, and filled with an abundance of dancing!
We sat down with Cait to discuss her decor, dress, and favorite moments.
Neiman Marcus: What was your inspiration for the wedding?
Cait Mastorakos: Everything desert — from the peach-pink sunsets to the unique cacti and prickly floral.
NM: How long did it take you to plan your wedding?
CM: We got engaged last Memorial Day — May 25, 2015 — and we enjoyed our engagement for about a month before planning. I would say it took about ten months to plan.
NM: Tell us about finding your dress and the fitting process.
CM: I am very petite, so I knew I wanted something form fitting and classic—but that didn't stop me from trying on anything and everything. I went to many bridal boutiques with my close friends in Dallas, and when I say I tried on a lot of dresses, "a lot" is an understatement. My mom came into town from California for Labor Day weekend and, of course, our first appointment was at the Neiman Marcus Bridal Salon. Kim Click had helped me with prior visits, so she pulled some my favorite styles as well as a few new designs we requested. I ended up wearing a Vera Wang dress — one I had not tried on before. It was similar to what I had always imagined I would wear on my wedding day, but the outcome still surprised me! My dress had a removable tulle bow on the back and I ended up wearing that as my veil.
NM: What shoes and jewelry did you wear?
CM: My shoes were nude-patent Saint Laurent "Tributes". I wore my grandmother's pearl and diamond earrings that she recently gifted to me on Christmas. My grandfather originally gave them to her.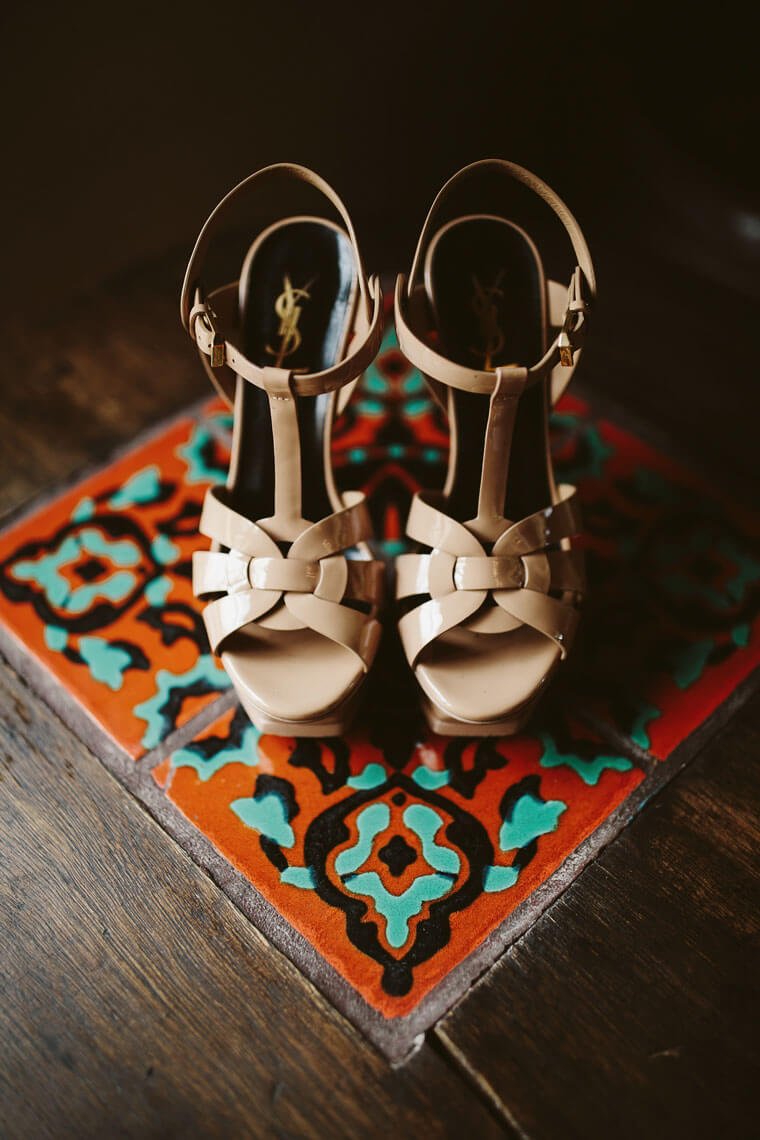 NM: Tell us about your bridesmaids and the beautiful bouquets.
CM: My maid of honor was my stepsister Jessica. I had a total of eight bridesmaids — varying from childhood friends, college sorority sisters and post-college friends. Because our entire wedding was inspired by the desert, the bouquets consisted of sage green succulents, light pink and white peonies, and light peach garden roses.
NM: Tell us a bit about the reception. What were your highlights?
CM: The reception was an absolute dream and planned out perfectly — all thanks to our day-of coordinator Lisa Sipe. Some of the highlights were the best man's speech, given by the groom's twin brother, Dimitri, and my grandfather's Irish toast. We also loved our cakes! We had a traditional three-tier wedding cake and a not-so-traditional TCU groom's cake. Another highlight was the Greek dancing that took place throughout the evening. My husband's family is very Greek, and when you get them together, you are bound to have Greek dancing!
NM: Describe what you were feeling during your send off.
CM: I remember feeling overwhelmed with love. Not only by the love coming from my husband sitting next to me as we left our guests, but by the love from all of our friends and family sending us off on our wedding night.
Congratulations Cait! Thank you for sharing your beautiful wedding story with us.
BASIC INFO:
Wedding Date: April 30, 2016
Ceremony location: The O'Donnell House in Palm Springs, California
Reception Location: The O'Donnell House in Palm Springs, California
Wedding Planner: My mother and I did the majority of the planning. However, we did have a day of Coordinator Lisa Sipe who was amazing! She works for The Events Department located in Palm Desert.
Florist: Jensen's in Palm Springs
Save the Dates/Invitations: Minted.com
Photographer: Nicole Leever
Band/DJ: Chris Lomeli (Band/DJ) and Zephyr (DJ)
Bride and Groom Cakes: Exquisite Desserts in Palm Desert
Wedding Gown: Vera Wang
Wedding Shoes: Saint Laurent Tributes
Husband's name: Panayioti Mastorakos