#NMweddings: Merchandise Coordinator, Allie Eppler Jarvie
July 26, 2016
The fairy-tale wedding every little girl dreams of became a reality for NM Merchandise Coordinator Allie Eppler Jarvie. On June 4, 2016, the bride and groom enjoyed a traditional Texas-charmed day filled with friends and family and plenty of desserts to end the night. Allie shared some of her favorite memories from her magical day and the preparation that went into it—including when she found the dress. All photos courtesy of Thisbe Grace Photography.
Neiman Marcus: What was your inspiration for the wedding?
Allie Eppler Jarvie: The inspiration for our wedding was traditional, classic, and old Tyler, Texas charm. We wanted it to feel dreamy—like our perfect fairy tale.
NM: How long did it take you to plan your wedding?
AEJ: My mom booked our band 18 months in advance, but we planned the wedding in about 12 months. My mom was a huge help throughout the entire process!
NM: Tell us about the dress, more so about the choosing and fitting process.
AEJ: The first time I saw my dress, my mom and I squealed because it was just so perfect! When I saw myself in the mirror at the salon, I got emotional and might have shed a glistening tear. It was an all-lace Ines di Santo dress from Neiman Marcus, fitted by Mary Kay. I had the straps moved slightly to be worn off the shoulder, but I kept the integrity of the dress. I absolutely love the intricate lace fabric! My veil was an 80-year-old heirloom worn by generations in my family, and Neiman Marcus facilitated its restoration for me.
NM: What shoes and jewelry did you wear?
AEJ: I wore Jimmy Choo Chiara Demi-Wedge Crisscross Sandals from Neiman Marcus. The necklace I wore was crafted with diamonds from both sides of my family, formerly worn by my sister on her wedding day last year.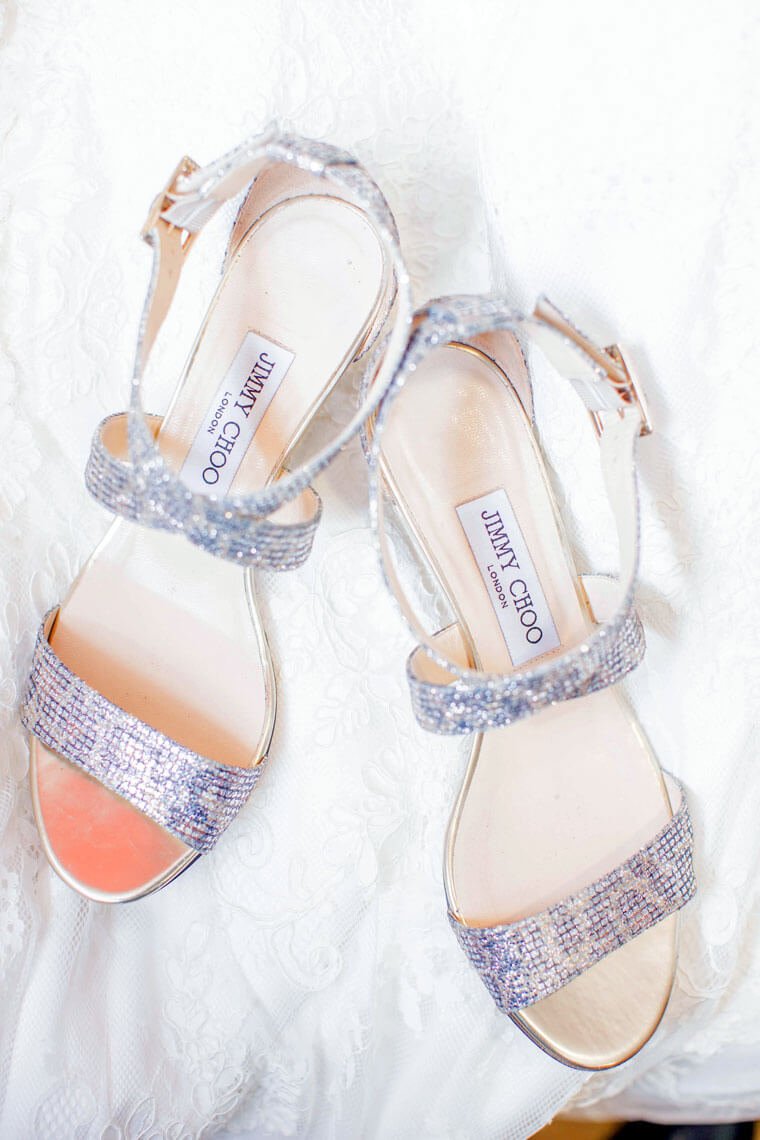 NM: Tell us about your bridesmaids and the beautiful bouquets.
AEJ: My bridesmaids wore blush pink, and my house party wore powder blue. My flowers and bouquets were white, blush, and light pink, with a touch of brighter pink. I had mostly hydrangeas, roses, peonies, and orchids. My bouquet was entirely white and green—cascading with roses, peonies, and orchids intertwined. The flower girls wore pink and white flower crowns. All of my wedding party looked absolutely gorgeous, and I could not have done it without them!
NM: Tell us a bit about the reception. What were your highlights?
AEJ: My reception was at Willow Brook Country Club in Tyler, Texas. One of my favorite highlights was our wedding cake—it sat on a raised-glass table top with flowers all underneath, and orchids cascading down the table. The layers of my cake were complete with wreaths of flowers. The icing pattern was the Ines Di Santo lace pattern of my dress with our monogram. My cake was white wedding cake with raspberry chambord filling. The groom's cake was a chocolate, layered cake with the Baylor University seal in green and gold on top. Both of our parents attended Baylor, just as we did! We also had strawberry shortcake passed around toward the end of the evening, my husband's favorite dessert. The guest book table had our parents' and grandparents' wedding day photos displayed alongside my mother's wedding dress—also from Neiman Marcus 29 years earlier—that had been remade into a tablecloth. We had a flower wall in a life-size gold frame for guests to take pictures in front of at the reception. Additionally, live painter Jennie Lou Art attended the reception and painted a scene of my husband and me dancing in the ballroom. The dance floor was complete with flower crowns, light-up necklaces, glasses, and tambourines. Finally, we had Emerald City Band making the whole night a complete blast and success!

NM: Describe what you were feeling during your send off.
AEJ: I felt so thankful for all of our family and friends who took the weekend to celebrate Michael and me! It was a complete joy to finally be married to the man of my dreams after dating six years. I felt like the entire wedding day was far more perfect than I planned or could have imagined. We rode off in a horse-drawn carriage, and it was my perfect fairy tale!
Congratulations Allie and Michael on an absolutely beautiful evening.
BASIC INFO:
Wedding Date: June 4, 2016
Ceremony location: Marvin United Methodist Church
Reception Location: Willow Brook Country Club
Catering: Willow Brook Country Club
Wedding Planner: We had a coordinator at both the church and reception.
Florist: La Tee Da
Save the Dates/Invitations: Carlson Craft
Photographer: Thisbe Grace Photography
Videographer: The McKellars
Band/DJ: Emerald City Band
Bride and Groom Cakes: Designs by Dianne
Wedding Gown: Ines di Santo from Neiman Marcus
Wedding Shoes: Jimmy Choo from Neiman Marcus
Husband's Name: Michael Jarvie